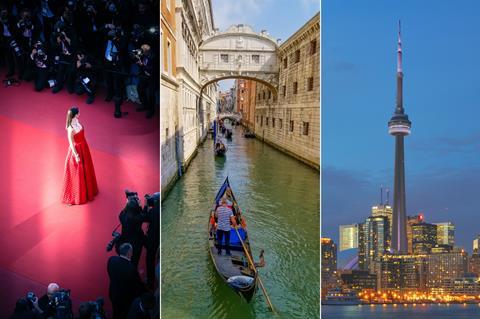 SEE HERE FOR THE 2021 CALENDAR.
The coronavirus pandemic has caused disruption worldwide to the regular festival calendar.
To help keep track of the changing schedule, Screen kept this page updated with the latest film festival and market dates, postponements and cancellations.
The events that are still set to run in some capacity are listed first, while those that were cancelled or ran online earlier in the year are further below.
To submit details of a change to your festival dates/status, please contact us here with the name, dates, and website for the event, and if it is running online, physically, or both.
2020 festivals calendar - latest
Events that were cancelled, ran online, or physically
AFCI Week - cancelled
AFM - America Film Market - ran online, November 9-13
AFI Fest - ran online, October 15-22
Antalya Film Festival - ran physically, October 3-10
Bergen International Film Festival - ran physically, October 7-18
BFI Flare - ran online, March 20-30
BIFAN - ran physically, July 9-16
Brussels International Film Festival - ran physically, September 3-13
Camden International Film Festival - ran physically, October 1-12
Canneseries - ran physically and online, October 9-14
Cheltenham International Film Festival - ran online, June 8-14
Chicago International Film Festival - ran physically, October 14-25
CineEurope - ran online, June 17-18
Cork International Film Festival - ran online, November 4-15
CPH:DOX - ran online, March 18 - April 5
Docaviv - ran online, September 3-12
DOK Leipzig - ran online, October 26-November 1
El Gouna Film Festival - ran physically, October 23-31
European Film Forum SCANORAMA - ran online, November 4-15
Fajr International Film Festival - cancelled
FICCI Frames - ran online, July 7-11
Film Fest Ghent - ran physically and online, October 13-24
Film Festival Cologne - ran physically, October 1-8
Filmart - ran online, August 26-29
Frameline - ran online, September 17-27
Frames Of Representation - ran online, November 27-December 13
Frontières Co-production Market - ran online, July 23-26
Guadalajara Film Festival - November 20-27
Hamptons International Film Festival - ran physically, October 8-12
Helsinki Film Festival - ran physically, September 17-27
Hot Docs - ran online, May 28-June 24
IndieLisboa - ran physically, August 25-September 5
Inside Out - ran online, October 1-11
Istanbul Film Festival National Competition - ran online, April 10-21
Istanbul Film Festival, excluding National Competition - ran online, October 9-20
Jihlava International Documentary Film Festival - ran physically and online, October 27-November 1
Key West Film Festival - ran physically, November 18-22
Krakow Film Festival - ran online, May 31-June 7
Leeds International Film Festival - ran online, November 3-30
London Korean Film Festival - ran online and physically, October 29-November 12
Malaga Film Festival - ran physically, August 21-30
Malaysia International Film Festival - postponed to January 2, 2021
Manchester Animation Festival - ran online, November 15-30
Melbourne Film Festival - cancelled (MIFF 68 1/2 ran online, August 6-23)
MIPCOM Online+ - ran online, October 12-16
MIPTV - ran online, March 28 - April 2
Moscow International Film Festival - ran physically, October 1-8
Mumbai Film Festival - cancelled
New Horizons Film Festival - ran online, November 5-15
New York Film Festival - ran online, September 17-October 11
New Zealand International Film Festival - ran physically, July 24-August 2
NewFest LGBTQ Festival - ran online, October 16-27
Norwich Film Festival - ran online, November 2-29
Panama Film Festival - ran online, May 22-26
Produced By - cancelled
Red Sea International Film Festival - cancelled
Series Mania - ran online, April 20 - May 29
Shanghai International Film Festival - ran online and physically, July 25-August 2
Sofia Film Festival Summer - ran online and physically, June 24-July 19
Sofia Film Festival Autumn - ran physically, September 24-October 15
Sofia Meetings: Works in Progress - ran online, May 27-31; pitchings, events - ran online, July 3-8
Sundance London - ran online, August 7-9
SXSW - cancelled (virtual collection ran online, April 27-May 6)
Thessaloniki International Film Festival - ran online, November 5-15
Vancouver International Film Festival - ran online, September 24-October 7
ZagrebDox - ran physically, October 4-11
Zurich Film Festival - ran physically, September 24-October 4