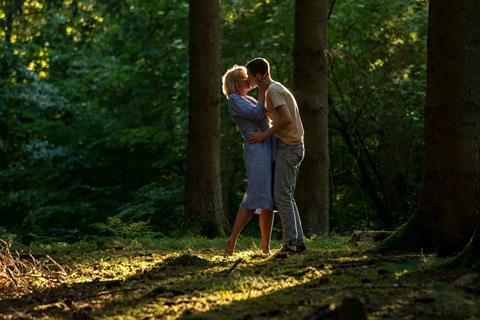 Danish filmmaker May el-Toukhy's Sundance hit and local box office sensation Queen Of Hearts, is one of 10 features by European female directors selected to screen as part of the fourth edition of Europe! Voices of Women in Film at the Sydney Film Festival (SFF) in June.

Trine Dyrholm stars in the film about a happily married woman who falls in love with her teenage stepson. Dyrholm also features in the zombie film Endzeit-Ever After by Swedish-born, Berlin-based Carolina Hellsgard which is also screening at SFF as part of the programme.
Europe! Voices Of Women in Film is a collaboration between Berlin-based European Film Promotion (EFP) and SFF to showcase the work of outstanding European filmmakers to Australian audiences and the local industry. The final selection was chosen by SFF festival director Nashen Moodley, with the support of the programme's ambassador, leading Australian producer Jan Chapman.
Five directors are screening their debut films. They are: Cyprus' Tonia Mishiali 's drama Pause, about a woman trying to escape an oppressive marriage; comedy drama The Best Of Dorien B by Belgian director Anke Blonde; Icelandic director Ásthildur Kjartansdottir's The Deposit, about a journalist trying to help a group of immigrant women; Austrian comedy Caviar by Elena Tikhonova, in which an interpreter starts to enjoy her work with a Russian oligarch; and the romantic drama Only You, by the UK's Harry Wootliff, which stars Josh O'Connor and Laia Costa.
Additionally, the psychological drama Retrospekt, the second work from Dutch drama Esther Rots, is also screening, as are two feature documentaries: Ellen Fiske and Ellinor Hallin's feature debut Scheme Birds, about a pregnant Scottish teenager trying to carve a new life for herself; and When Tomatoes Met Wagner, by Greek filmmaker Marianna Economou about a Greek village that cultivates old tomato varieties.
Six of the directors - Hellsgård, Economou, Kjartansdóttir, Mishiali, Rots and Tikhonova - are attending the festival to participate in networking events with the Australian industry and to take part in a panel discussion chaired by Screen International's local critic Sarah Ward.
The intiative is supported by the EU's Creative Europe MEDIA programme, and the respective EFP member organisations of the participating filmmakers.
SFF also hosts an Official Compeittion of 12 international films that vie for the Sydney Film Prize, worth A$60,000 ($42,000). Previous winners include The Heiresses (2018), On Body and Soul (2017) and Aquarius (2016).
This year's line-up includes Cannes Competition titles Pain And Glory, Bacurau, and Bong Joon-ho's Palme d'Or winner Parasite.
The SFF runs from June 5-16