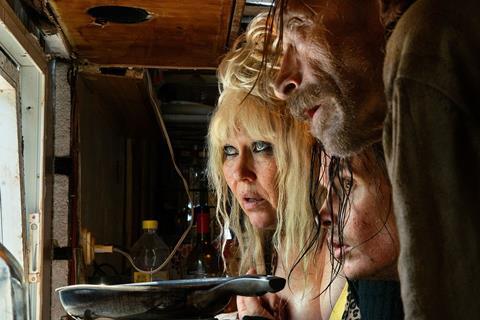 Estonia's Tallinn Black Nights Film Festival has unveiled the full line-up for its official selection, featuring 19 world premieres, with the festival set to run from November 11-27.
World premieres include Finnish director J.-P. Valkeapää's Hit Big, a Finland-Estonia-Spain co-production. Valkeapää's credits include Dogs Wear Pants and They Have Escaped. The new film is about a Finnish former beauty pageant star, who left Finland for Spain's Costa del Sol, finds her family's murky criminal past starts to unravel. Charades is handling sales.
Scroll down for the full competition line-up
There are three Ukrainian world premieres – Ukrainian filmmaker Marysia Nikitiuk's Lucky Girl, about a TV star who throws herself into her career when faced with various health issues, Sashenka, from Alexander Zhovna, that's based on a true Soviet murder story; and Jailbird, an Italy-Ukraine co-production from Italian filmmaker Andrea Magnani in his follow-up to his debut, Locarno premiere Easy. It follows an institutionalised child who grows into a distinctive adult.
From Ireland comes the world premiere of Ciaran Creagh's Ann, set in 1980s Ireland, and looking at the last days of a pregnant teenager.
The festival announced its first seven features in the competition line-up in September, that included the return to Tallinn of Japan's Ryuichi Mino for a second consecutive year with Ginji The Speculator and Iranian filmmaker Ahmad Bahrami's The Wastetown. As also previously announced, the 26th edition of the festival will introduce a new competition programme, Critics' Picks, starting with 15 arthouse features. This year's Baltic Competition will exclusively screen fiction films and also considers minority Baltic co-productions.
Tallinn Black Nights official selection 2022
*denotes world premiere
Hit Big (Fin-Est-Sp)*
Dir. J.-P. Valkeapää
And Yet We Were All Blind (Fr)*
Dir. Béatrice Pollet
Jailbird (It-Ukr)*
Dir. Andrea Magnani
Piece Of My Heart (Neth-Belg)*
Dir. Dana Nechushtan
The Fox (Ger-Austria)*
Dir. Adrian Goiginger
Lucky Girl (Ukr)*
Dir. Marysia Nikitiuk
Night (Nor)*
Dir. Mona Hoel
Bungalow (Can)*
Dir. Lawrence Cote Collins
Cold As Marble (Azerbaijan-Fr)*
Dir. Asif Rustamov
Sanaa (India)*
Dir. Sudhanshu Saria
Ann (Ire)*
Dir. Ciaran Creagh
Sashenka (Ukr)*
Dir. Alexander Zhovna
Ducks An Urban Legend (Isr)*
Dir. Shachar Rozen
Plastic Symphony (Slovakia-Czech-Pol)*
Dir. Juraj Lehotský | world premiere
Servus Papa, See You in Hell (Germ)
Director. Christopher Roth
Stiekyt (S Afr)
Dir. Etienne Fourie
Official selection 2022 – previously announced
Driving Mum (Ice-Est)*
Dir. Hilmar Oddsson
A Cup Of Coffee And New Shoes On (Alb)*
Dir. Gentian Koçi
The Wastetown (Iran)*
Dir. Ahmad Bahrami
River of Desire (Bra)*
Dir. Sergio Machado
Ginji The Speculator (Jap)*
Dir. Ryuichi Mino
578 Magnum (Viet)
Dir. Lương Đình Dũng
The Punishment (Chile)
Dir. Matias Bize