Estonia's Tallinn Black Nights Film Festival crowned its industry winners last night (Nov 30), which included awards for best pitch and best works-in-progress.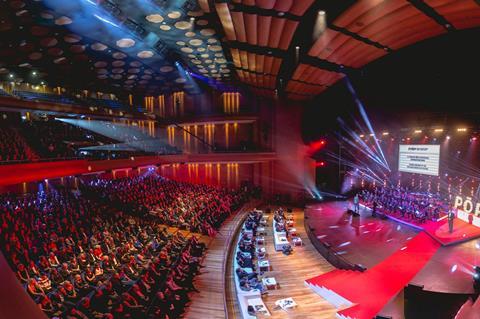 The Industry@Tallinn and Baltic Event strands concluded a week-long schedule of industry activity in the Baltic city, which has also featured the EU Presidency Conference and the Storytek innovation event.
The Baltic Event's Best Project prize, the Eurimages co-production development award worth €20,000, was awarded to Finland project The Great Bear (Surri Karhu) from director an Forsström and producers Kaarle Aho and Kai Nordberg of production company Making Movies Oy.
A jury included the Israel Film Fund's Katriel Schory and ZDF/ARTE's head of film in Germany Meinolf Zurhorst said the project was "an original and inspiring story that portrays a unique cinematic landscape and a deep understanding of the human soul".
The Baltic Event's Best Pitch prize, which is awarded by Screen International, went to Czech Republic feature Restore Point (Bob Obnovy), from director Robert Hloz, producer Jan Kallista abd production company Film Kolektiv.
The Baltic Event's Producers Network prize, which comes with two free passes to the Cannes Marche's Producers Network in 2018, went to Romania's Adina Dulcu and Belgium's Bram Sterckx.
The Baltic Event's works in progress award, which comes with €3,000, went to Lithuania-Latvia feature Motherland from director Tomas Vengris, producer Uljana Kim, co-producer Roberts Vinovskis, and production companies Studio Uljana Kim and Locomotive Productions.
Two projects took home Baltic View awards, which come with a package valued at €3,000 including a DCP production, online store and promotion at international events. The winners were: George-Russia project 43, from director Dimitry Tsintsadze and producer Rusudan Glurjidze, and Estonia project Take It Or Leave It (Võta Või Jäta), from director Liina Trishkina-Vanhatalo and producer Ivo Felt.
The Industry@Tallinn works in progress awards saw Belarus-Germany-US co-pro Crystal Swan take the post-production award, worth €10,000 of services from Finnish post house Post Control.
The project's creative team is: director Darya Zhuk; producers Birgit Goernbock, Debbie Vandermeulen, Olga Goister, Valery Dmitrotchenko; co-producer Andrey Isachenko; production companies Demarshfilm, Unfound Content, Fusion Features, Vice Films, Belarus Film.
Two projects were given Think Of The Music awards, which allow access to license music from Apollo Music's library worth €1,500: Colombia-Brazil project Admist The Fog (Entre La Niebla), and Estonia-Ireland-Belgium-UK stop-motion animation Captain Morten And The Spider Queen.
New initiative Script Pool, a script development programme, crowned Indian project The Sky Is Pink from director Shonali Bose – it will receive €5,000 and two months of assistance from script doctor Norbert Maass.
Finally, the Storytek Script Pool prize, which awards an interactive or multi-platform IP-driven production, went to Lithuanian project Bloody Sunday VR from director Andrius Lekavicius and producer Polonski Bartosh. The project will now get to pitch during the second edition of the programme in spring 2018.