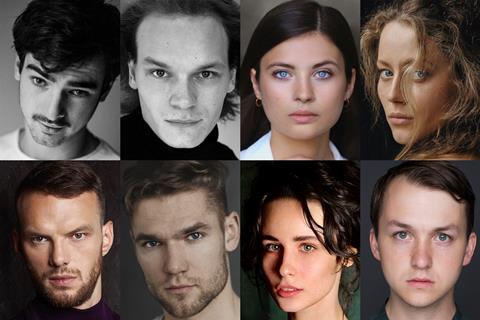 Estonia's Tallinn Black Nights Film Festival (PÖFF) has unveiled the eight Black Nights Stars, its industry showcase of rising actors from the Baltic Sea region.
In addition to the six actors from the Baltics, a further two from Russia have been added this year as part of the festival's Russia In Focus programme.
The eight actors are:
Aaron Hilmer (Germany)
Credits include: The Last Word, The Most Beautiful Girl In The World, The Peppercorns
Antoni Sałaj (Poland)
Credits include: Legion, The Crown Of The Kings,, Squadron 303

Hanna Ardéhn (Sweden)
Credits include: Quicksand, Double Life, The Name Of The Game
Henessi Schmidt (Estonia)
Credits include: Winter, Kättemaksukontor
Reimo Sagor (Estonia)
Hamilton, Scandinavian Silence, Take It Or Leave It
Simonas Mozüra (Lithuania)
Credits include: The Lawyer, Young Wallander, Rich Poor
Vika Sobol (Russia)
Credits include: Katja, Syndrome IO
Vladislav Kulygin (Russia)
Credits include: The New Miracle
They were selected by a jury comprised of casting directors Nancy Bishop, Lina Todd, and Magdalena Szwarcbart; European Shooting Star and 2018 Black Nights Star Pääru Oja; and Screen contributing editor Michael Rosser.
Black Nights Stars is designed to build a bridge between international casting directors and new talent from the region. This year's programme is set to focus on how to navigate a career in an online world.
The 2020 Black Nights Stars programme will run online as part of the Industry@Tallinn & Baltic Event, from November 23-27.
The hybrid 24th edition of PÖFF will run from November 13-29.