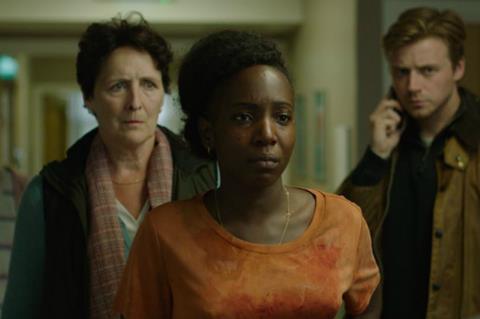 Estonian film festival Tallinn Black Nights has selected 15 titles for the First Feature Competition at its hybrid 24th edition which runs November 13-29.
The festival has also added three out of competition debut films to the programme; the 18 titles in total include 10 world premieres, seven international, and one European.
Scroll down for the full list of titles
World premieres include The Translator, from Syrian filmmakers Rana Kazkaz and Anas Khalaf. Set during the 2011 Syrian revolution, it follows a political refugee living in Australia who makes the journey back to his native country, having seen a video of his brother being arrested for demonstrating peacefully.
Also debuting is Nándor Lörincz and Bálint Nagy's Hungarian drama As Far As I Know, following two soon-to-be-parents whose fractious relationship is tested further when one of them claims to have been raped.
Out of competition titles include the European premiere of Joe Marcantonio's debut feature Kindred, produced by Scotland's Reiver Pictures in association with England's Serotonin Films, Head Gear Films, and Lipsync Productions. The thriller stars Fiona Shaw alongside Screen Stars of Tomorrow Jack Lowden, Edward Holcroft, Tamara Lawrance and Chloe Pirrie in the story of a fragile mother-to-be who is taken in by the family of her recently-deceased boyfriend.
UTA sold North American rights on Kindred – which was previously titled Corvidae – to IFC Midnight (the genre distribution arm of IFC Films) in July, with a release set for November 6.
The award for best film in competition and two special prizes will be given by a jury of industry professionals, to be announced later this month.
The full Black Nights programme will be unveiled on November 6.
Tallinn Black Nights First Feature Competition 2020 titles
The Translator (Fr-Switz-Syr-Bel-Qat-US) dirs. Rana Kazkaz, Anas Khalaf (world premiere)
Poppy Field (Rom) dir. Eugen Jebeleanu (world premiere)
Longing Souls (Col) dir. Diana Montenegro (world premiere)
As Far As I Know (Hun) dirs. Nándor Lörincz & Bálint Nagy (world premiere)
Model Olimpia (Ger) dir. Frédéric Hambalek (world premiere)
Great Happiness (China) dir. Wang Yiao (world premiere)
Sententia (Rus) dir. Dmitry Rudakov (world premiere)
Karnawal (Arg-Bra-Chile-Mex-Nor) dir. Juan Pablo Félix (world premiere)
The Penultimate (Den) dir. Jonas Kærup Hjort (world premiere)
Tailor (Gre-Ger-Bel) dir. Sonia Liza Kenterman (world premiere)
Goodbye, Soviet Union (Fin-Est) dir. Lauri Randla (international premiere)
The Enemies (Iran) dir. Ali Derakhshandeh (international premiere)
25 Years Of Innocence (Pol) dir. Jan Holoubek (international premiere)
Madly In Life (Bel) dirs. Ann Sirot & Raphaël Balboni (international premiere)
Black Light (S Kor) dir. Bae Jong-dae (international premiere)
The Flood (Australia) dir. Victoria Wharfe McIntyre (international premiere)
Fortuna – The Girl And The Giants (It) dir. Nicolangelo Gelormini (international premiere)
Should The Wind Drop (Fr-Bel-Arm) dir. Nora Martirosyan (European premiere)
Out of Competition titles
Why Not You (Austria) dir. Evi Romen (world co-premiere with Zurich International Film Festival)
My Heart Goes Boom! (Sp-It) dir. Nacho Álvarez (international premiere)
Kindred (UK) dir. Joe Marcantonio (European premiere)