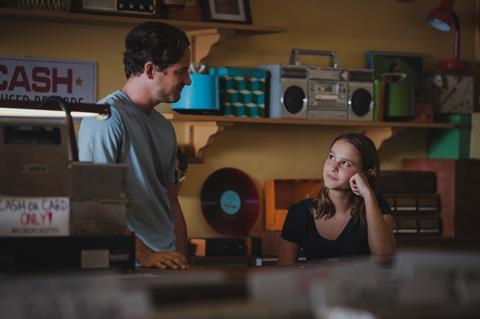 The Avenue, Highland Film Group's domestic distribution arm, has acquired North American rights at AFM to the romance Press Play from Parasite producer CJ ENM, which handles international sales.
Lewis Pullman, Clara Rugaard, Danny Glover and Matt Walsh star in the story about a young woman who has a chance to save the love of her life when she discovers that the mixtape they made can transport her back in time.
Visual effects editor Greg Björkman makes his feature directorial debut from a screenplay he co-wrote with James Bachelor. Producers are Josh Boone, Yeonu Choi, Logan Lerman and Jonathan Schwartz. CJ's Miky Lee and Jerry Kyoungboum Ko serve as executive producers.
The Avenue is targeting a 2022 release. Pullman's credits include Bad Times At The El Royale and upcoming Top Gun: Maverick and Salem's Lot. Rugaard starred in I Am Mother and Teen, while Walsh from Veep and upcoming Unplugged. Glover of the Lethal Weapon franchise has also starred in Jumanji: The Next Level and 2012, among many others.
Press Play is part of CJ ENM's growing English-language slate that includes imminent release Hide And Seek with Jonathan Rhys Meyers and Jacinda Barrett, and a remake of Extreme Job, one of two collaborations with Kevin Hart alongside female-driven dramedy, Bye, Bye, Bye, based on South Korean hit Sunny.
The company is also working on a Parasite television series with HBO and recently hired Deon Taylor to direct the gothic horror Grave Hill, an English-language remake of Vietnamese horror film The Housemaid, and will produce a remake of Korean film Save The Green Planet! alongside Ari Aster and Lars Knudsen's Square Peg production banner.
CJ ENM has a strategic investment in David Ellison's Skydance Media that will see the companies collaborate on film and TV projects, tapping into libraries that appeal to a worldwide audience.
The Avenue launched in 2020 and has released martial arts sci-fi Jiu Jitsu starring Nicolas Cage and Frank Grillo; Renny Harlin's The Misfits with Pierce Brosnan, Nick Cannon, and Tim Roth; and upcoming action thriller The System starring Tyrese Gibson and HFG's romance One True Loves starring Phillipa Soo, Simu Liu and Luke Bracey.