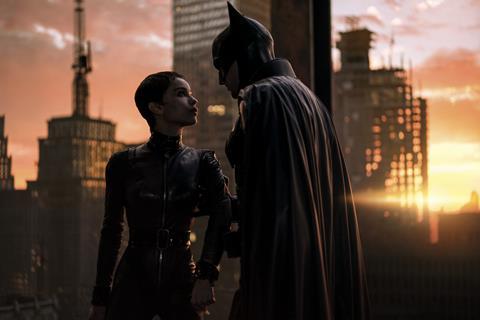 Warner Bros' The Batman has surged past the $500m mark at the global box office in its second week of release to become the fourth highest grossing film od the pandemic era.
Matt Reeves's take on the DC superhero starring Robert Pattinson and Zoe Kravitz has amassed $505.8m, of which $258.3m comes from North America and the $247.5m balance from international markets where the tentpole still has a way to go including the China launch on Friday.
The Batman launched on $258.2m for the biggest North American and worldwide theatrical launch of the year to date, scoring among the highest pandemic era debuts in 62 individual markets including the UK, France, Germany, Italy, Spain, Australia, South Korea, Brazil, and Mexico. It has delivered the biggest debut for a DC film in seven markets and the biggest opening weekend for a Warner Bros release in Iceland.
Reeves directed from a screenplay he co-wrote with Peter Craig. Dylan Clark and Reeves produced the film, while Michael E. Uslan, Walter Hamada, Chantal Nong Vo and Simon Emanuel served as executive producers. The cast includes Andy Serkis, Jeffrey Wright, Colin Farrell, John Turturro and Paul Dano and Peter Sarsgaard