Altitude has taken international sales and U.K. distribution on the Tribeca title.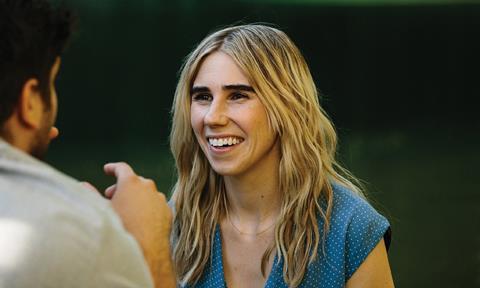 Altitude Film Distribution has acquired UK distribution rights to The Boy Downstairs, starring Girls actress Zosia Mamet.
Altitude Film Sales will also present the title - which played at Tribeca - to international buyers at Cannes.
The film co-stars Matthew Shear and is helmed by first-time writer-director Sophie Brooks.
The Boy Downstairs is produced by Cliffbrook Films' Dan Clifton (The Belko Experiment), David Brooks (ATM) and Motion Picture Capital (Hampstead, Sense8), with executive producer Paul Brooks (Pitch Perfect).
The UK distribution deal was struck by Altitude's co-CEO Andy Mayson with Motion Picture Capital, the major financier of the film.
In the film Mamet plays a woman who moves back to New York City after a few years in London and finds what seems to be the perfect Brooklyn apartment. However, on the first night in her new home she discovers her ex-boyfriend Ben, played by Shear, lives in the apartment below. As the story progresses and old wounds are reopened, she is forced to confront the true nature of her feelings.
Besides the Emmy and Golden Globe award-winning Girls, Zosia Mamet has also appeared in Todd Solonz's Wiener-Dog and the David Robert Mitchell's upcoming Under the Silver Lake.
Matthew Shear appears in Noah Baumbach's The Meyerowitz Stories which is premiering in Competition at Cannes.
UTA is handling North American sales.