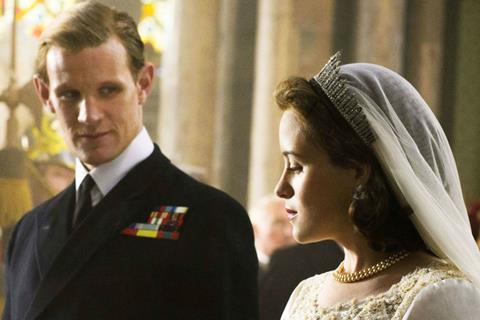 Left Bank Pictures has apologised to The Crown stars Claire Foy and Matt Smith after they were dragged into a row about the disparity of their salaries on the Netflix drama.
In a statement, the Sony Pictures-backed producer said that it was responsible for setting budgets and salaries and emphasised that the pair could not be held responsible for any pay discrepancies.
During a panel at Keshet's INTV conference in Jerusalem last week, Left Bank's Suzanne Mackie revealed that Foy, who played the Queen in the Netflix drama, was paid less than her co-star Smith (Prince Philip) due to the relative fame of the former Doctor Who lead.
Left Bank, headed up by Andy Harries, said it was sorry the actors had been embroiled in the scandal.
"We want to apologise to both Claire Foy and to Matt Smith, brilliant actors and friends, who have found themselves at the centre of a media storm this week through no fault of their own," it said.
"As the producers of The Crown, we at Left Bank Pictures are responsible for budgets and salaries; the actors are not aware of who gets what, and cannot be held personally responsible for the pay of their colleagues."
The producer plans to kick off conversations with the TimesUp UK campaign and ERA 50:50 to ensure women are fairly represented.
"We understand and appreciate the conversation which is rightly being played out across society and we are absolutely united with the fight for fair pay, free of gender bias, and for a rebalancing of the industry's treatment of women, both those in front of the camera and for those behind the scenes," it said.
"We all have a responsibility to do what we can to ensure that these issues are tackled, and as a leading production company we want to make our contribution to the debate."
On last week's panel, Mackie hinted that Olivia Colman, who takes over from Foy for series three, would be paid the same as Smith's successor.
"Going forward, it is really important for us to say that no one gets more than the Queen," she said.
It was announced last week that Left Bank co-founder Marigo Kehoe was standing down after 11 years with the company.
This story originally appeared in Screen's sister publication Broadcast.