Strand also includes Clio Barnard's Dark River and Brad's Status with Ben Stiller.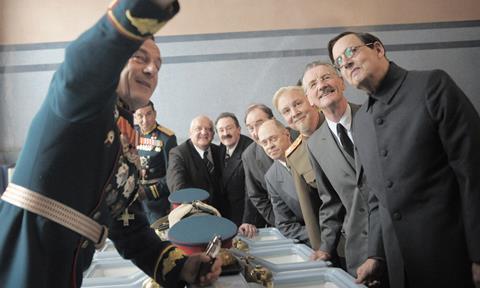 Top brass at the Toronto International Film Festival (TIFF) unveiled on Thursday the 12 films that comprise this year's Platform programme.
The line-up opens with Armando Iannucci's satire The Death Of Stalin (pictured), and includes Mike White's US comedy Brad's Status starring Ben Stiller, and Clio Barnard's UK selection Dark River.
Warwick Thornton's Australian western Sweet Country closes the section. Every entry is a world premiere except Sweet Country and Xavier Legrand's Custody, both of which premiere in Venice.
The films represent eight countries and will compete for the Platform Prize awarded by a jury comprising filmmakers Chen Kaige, Malgorzata Szumowska and Wim Wenders.
This will mark the third year of Platform., designed to showcase "original voices in contemporary cinema." Previous selections include this year's best picture Oscar winner Moonlight, Lady Macbeth, Land Of Mine, and Jackie.
"The films unveiled today embody our bold vision for the programme, and our ongoing commitment to showcase artistic and inventive directors that fearlessly push boundaries," TIFF CEO and director Piers Handling said. "The twelve titles exemplify bravery, dynamism and a unique voice in storytelling that we look for when curating the Platform programme."
"Platform is the place to look for the distinct stamp of today's most interesting directors as they establish their reputations," TIFF artistic director Cameron Bailey said. "It's important that the Platform jury also reflects original thinking in cinema. We're thrilled to bring together Wim Wenders, Chen Kaige and Malgorzata Szumowska, each one responsible for bringing visionary films into the world."
PLATFORM
Beast (UK), Michael Pearce WP
Brad's Status (USA), Mike White WP
Custody (France), Xavier Legrand NAP
Dark River (UK), Clio Barnard WP
The Death Of Stalin (France-UK-Belgium), Armando Iannucci WP Platform Opening Film
Euphoria (Sweden-Germany), Lisa Langseth WP
If You Saw His Heart (France), Joan Chemla WP
Mademoiselle Paradis (Austria-Germany), Barbara Albert WP
Razzia (France), Nabil Ayouch WP
The Seen And Unseen (Indonesia), Kamila Andini WP
Sweet Country (Australia), Warwick Thornton NAP Platform Closing Film
What Will People Say (Hva Vil Folk Si) (Norway-Germany-Sweden), Iram Haq WP
Click here for further details. The 42nd Toronto International Film Festival is scheduled to run from September 7-17.