Yorgos Lanthimos's period comedy The Favourite won a record 10 prizes at this year's British Independent Film Awards.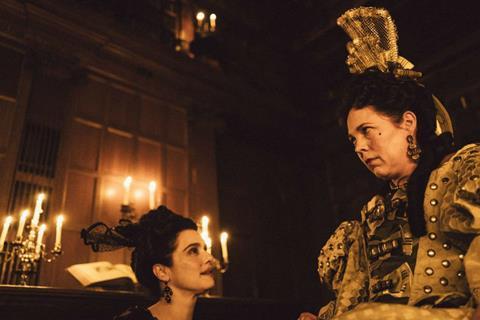 At a ceremony held in London hosted by actor Russell Tovey – who in his opening monologue declared the night a "Brexit-free zone" - the film took the night's main prize, Best British Independent Film, as well as Best Director for Lanthimos and Best Screenplay for writers Deborah Davis and Tony Mcnamara.
The Favourite star Olivia Colman continued her perfect record at the BIFAs, taking home Best Actress to make it four wins from four nominations at the annual ceremony. Co-star Rachel Weisz won Best Supporting Actress, her first BIFA since 2005, when she won Best Actress for The Constant Gardener.
Those five awards added to the five that the film won at the previously-announced craft awards earlier this month.
Rising star Joe Cole was arguably a surprise winner in the Best Actor category for his role in Jean-Stéphane Sauvaire's Thai boxing picture A Prayer Before Dawn, beating a field including more established names such as Joaquin Phoenix and Steve Coogan. Elsewhere in the acting categories, Alessandro Nivola also triumphed over a strong field to win Best Supporting Actor for his performance in Sebastián Lelio's Disobedience.
Bart Layton's American Animals also picked up two awards: the Debut Screenwriter prize for writer-director Layton, which added to the Best Editing craft award.
Turner Prize-winning artist Richard Billingham received The Douglas Hickox Award for Best Debut Director for his Ray & Liz. The film's producer Jacqui Davies won the award for Breakthrough Producer.
Lynne Ramsay's You Were Never Really Here also won two BIFAs - Best Music and Best Sound.
Jessie Buckley, star of Michael Pearce's Beast, was named Most Promising Newcomer.
On the distribution side, Fox Searchlight won 10 prizes (all for The Favourite), Studiocanal won three (You Were Never Really Here and Early Man), Altitude took two (Beast, A Prayer Before Dawn), New Wave also took two (Ray & Liz), STXEntertainment won two (both for American Animals), and Curzon took one (Disobedience).
Elsewhere, Orlando von Einsiedel's Evelyn – the director's follow-up to his Oscar-winning short The White Helmets - was named Best Documentary.
The Discovery Award went to May Miles Thomas' Voyageuse, while Best International Independent Film went to Alfonso Cuaron's ROMA - that was Netflix's first ever BIFA. Dawn Shadforth's The Big Day won best British Short Film.
As previously announced, Judi Dench and Felicity Jones were both recipients of honorary awards, while UK filmmaker Horace Ové received the event's Special Jury Prize.
Winners list:
Winners in bold
Best British Independent Film
AMERICAN ANIMALS Bart Layton, Katherine Butler, Dimitri Doganis, Derrin Schlesinger, Mary Jane Skalski
BEAST Michael Pearce, Kristian Brodie, Lauren Dark, Ivana MacKinnon
DISOBEDIENCE Sebastián Lelio, Rebecca Lenkiewicz, Frida Torresblanco, Ed Guiney, Rachel Weisz
THE FAVOURITE Yorgos Lanthimos, Deborah Davis, Tony McNamara, Ceci Dempsey, Ed Guiney, Lee Magiday
YOU WERE NEVER REALLY HERE Lynne Ramsay, Pascal Caucheteux, Rosa Attab, James Wilson, Rebecca O'Brien
Best Director
ANDREW HAIGH Lean on Pete
YORGOS LANTHIMOS The Favourite
BART LAYTON American Animals
MICHAEL PEARCE Beast
LYNNE RAMSAY You Were Never Really Here
Best Actress
GEMMA ARTERTON The Escape
JESSIE BUCKLEY Beast
OLIVIA COLMAN The Favourite
MAXINE PEAKE Funny Cow
RACHEL WEISZ Disobedience
Best Actor
JOE COLE A Prayer Before Dawn
STEVE COOGAN Stan & Ollie
RUPERT EVERETT The Happy Prince
JOAQUIN PHOENIX You Were Never Really Here
CHARLIE PLUMMER Lean on Pete
Best Screenplay
DEBORAH DAVIS, TONY McNAMARA The Favourite
BART LAYTON American Animals
SEBASTIÁN LELIO, REBECCA LENKIEWICZ Disobedience
MICHAEL PEARCE Beast
LYNNE RAMSAY You Were Never Really Here
Best Supporting Actress
NINA ARIANDA Stan & Ollie
RACHEL McADAMS Disobedience
EMMA STONE The Favourite
RACHEL WEISZ The Favourite
MOLLY WRIGHT Apostasy
Best Supporting Actor
STEVE BUSCEMI Lean on Pete
BARRY KEOGHAN American Animals
ALESSANDRO NIVOLA Disobedience
EVAN PETERS American Animals
DOMINIC WEST Colette
Best Documentary
BEING FRANK: THE CHRIS SIEVEY STORY Steve Sullivan
EVELYN Orlando von Einsiedel, Joanna Natasegara
ISLAND Steven Eastwood, Elhum Shakerifar
NAE PASARAN Felipe Bustos Sierra
UNDER THE WIRE Christopher Martin, Tom Brisley
Most Promising Newcomer
JESSIE BUCKLEY Beast
MICHAELA COEL Been So Long
LIV HILL Jellyfish
MARCUS RUTHERFORD Obey
MOLLY WRIGHT Apostasy
The Douglas Hickox Award (Best Debut Director)
RICHARD BILLINGHAM Ray & Liz
DANIEL KOKOTAJLO Apostasy
MATT PALMER Calibre
MICHAEL PEARCE Beast
LEANNE WELHAM Pili
Debut Screenwriter
KAREN GILLAN The Party's Just Beginning
DANIEL KOKOTAJLO Apostasy
BART LAYTON American Animals
MATT PALMER Calibre
MICHAEL PEARCE Beast
Breakthrough Producer
KRISTIAN BRODIE Beast
JACQUI DAVIES Ray & Liz
ANNA GRIFFIN Calibre
MARCIE MACLELLAN Apostasy
FAYE WARD Stan & Ollie
The Discovery Award
THE DIG Andy Tohill, Ryan Tohill, Stuart Drennan, Brian J. Falconer
IRENE'S GHOST Iain Cunningham, Rebecca Mark-Lawson, David Arthur, Ellie Land
A MOMENT IN THE REEDS Mikko Makela, James Watson
SUPER NOVEMBER Douglas King, Josie Long
VOYAGEUSE May Miles Thomas
Best British Short Film
THE BIG DAY Dawn Shadforth, Kellie Smith, Michelle Stein
BITTER SEA Fateme Ahmadi, Emma Parsons
THE FIELD Sandhya Suri, Balthazar de Ganay, Thomas Bidegain
POMMEL Paris Zarcilla, Sebastian Brown, Ivan Kelava
TO KNOW HIM Ted Evans, Kellie Smith, Jennifer Monks, Michelle Stein
Best International Independent Film
CAPERNAUM Nadine Labaki, Jihad Hojeily, Michelle Keserwani, Khaled Mouzanar, Michel Merkt
COLD WAR Pawel Pawlikowski, Tanya Seghatchian, Ewa Puszczynska
THE RIDER Chloé Zhao, Mollye Asher, Sacha Ben Harroche, Bert Hamelinck
ROMA Alfonso Cuarón, Nicolás Celis, Gabriela Rodriguez
SHOPLIFTERS Hirokazu Koreeda