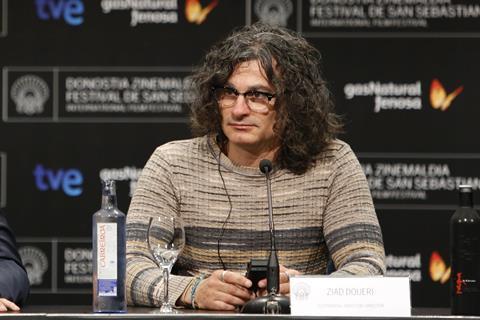 UPDATE: Lebanese-French director Ziad Doueiri has now walked free from a military court hearing after he was detained on Sunday evening at Beirut Airport.
According to news agency AFP, Doueiri was released and given back his confiscated passports after a hearing lasting several hours earlier today (11 Sept) over his shooting of a film in Israel.
His lawyer Najib Lyan told reporters the case was closed, adding: "My client was released. No charges have been filed against him."
Producer Jean Bréhat of Paris-based production banners Tessalit and 3B Productions, who is with Doueiri in Beirut, confirmed to Screen that the judge had dismissed the charges.
He specified that they had been related to Doueiri's previous film The Attack, and the fact that certain scenes were shot in Israeli, and not The Insult as previously reported.
"None of the scenes in The Insult were shot in Israel," he said.
He added that Doueiri's passports had been returned and the director was free to leave for the Toronto International Film Festival where he will attend the north American premiere on Thursday (Sept 14).
Doueiri is in Beirut for the premiere of The Insult on Tuesday evening (Sept 12) ahead of its Lebanese release by Italia Films on September 14.
The film has recently been announcement as Lebanon's submission to the Foreign Language Oscar race and Bréhat suggested that the announcement had reignited past criticisms of Doueiri's decision to shoot The Attack in Israel.
"It was perhaps the catalyst," he said.
After Toronto, Doueiri returns to France to complete shooting of his hit French political TV drama Baron Noir starring Kad Merad as a Machiavellian socialist politician.
"He has another 15 days of shooting the last episode and then we'll start preparing his next feature," said Bréhat. "It's a supernatural thriller."
ORIGINAL STORY: Lebanese-French director Ziad Doueiri was arrested briefly at Beirut Airport on Sunday evening after flying to his native Lebanon from the Venice Film Festival, where his film The Insult premiered in competition winning the best actor prize, according to French and Lebanese media.
On his release Doueiri told French news agency AFP on Sunday evening: "I was held at Beirut airport for two and a half hours. They released me after confiscating my French and Lebanese passports."
The director was ordered to report to a Lebanese military court first thing on Monday morning. He said he was ignorant of the charges.
The arrest came just 24 hours after Palestinian actor Kamel El Basha won the Coppa Volpi best actor prize for his performance in The Insult.
The film, which was well received by the critics at Venice, revolves around a simple dispute between Toni, a Lebanese Christian, and Yasser, a Palestinian refugee and building site foreman, over a trivial plumbing issue.
The film gets its north American premiere in the Contemporary World Cinema section at the Toronto International Film Festival on Thursday (Sept 14).
Doueiri said he was perplexed by the arrest. The Lebanese Minister of Culture was in Venice to support the film's premiere and censors have given its release the green-light in Lebanon.
"I'm extremely upset. I arrive in Lebanon with a prize from the Venice Film Festival and the local authorities have allowed the distribution of the film. I do not know who is responsible for what has happened."
"We will find out what this is all about at the tribunal."
Local media reported that Doueiri had provoked the ire of some back home for shooting a small part of the film in Israel, a country that is at war with Lebanon, although a fragile ceasefire is currently in place.
Co-operating with Israel on any level is regarded as normalising relations with the state.
It is not the first time Doueiri has come up against the Lebanese authorities. His film The Attack – revolving around a suicide bomb attack in Tel Aviv – was banned in Lebanon in 2013 because it was partly shot in Israel using Israeli actors.
The film revolved around a Palestinian-Israeli surgeon, whose life is torn apart when his wife commits a suicide attack.
The Lebanese authorities and censors have upped their scrutiny of the film industry of late.
They banned Wonder Woman in June, on the basis that its star Gal Gadot hailed from Israel, and more recently delayed the release of Annabelle 2 after priests on the censorship committee objected to scenes in the film.