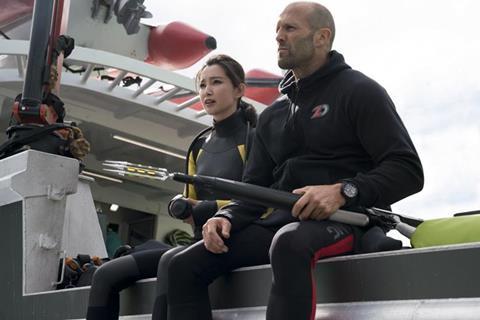 UPDATE: Following yesterday's delay due to a system error, this weekend's full UK box office results are now in.
Today's GBP to USD conversion rate - 1.29
| | | | | |
| --- | --- | --- | --- | --- |
| Rank | Film / Distributor | Three-day gross (Aug 10-12) | Running gross | Week |
| 1 | 'The Meg' (Warner Bros) | £3.7m | £4.4m | 1 |
| 2 | 'Mamma Mia! Here We Go Again (Disney) | £3.6m | £49.3m | 4 |
| 3 | Incredibles 2 (Disney) | £2.4m | £45m | 5 |
| 4 | Ant-Man And The Wasp (Disney) | £2.3m | £10.5m | 2 |
| 5 | Mission: Impossible – Fallout (Paramount) | £2m | £17.8m | 3 |
Warner Bros
The Meg, the action movie in which Jason Statham battles a 70-foot prehistoric shark, got its chops into the UK market this weekend, opening to a solid £3.7m from 499 sites, an average of £7,415. Including previews, the film's total opening was £4.4m.
The Fri-Sun figure made it top in the UK chart, narrowly edging out Mamma Mia! Here We Go Again in its fourth week (see below).
The number looks a good result for Warner Bros. Non-franchise Statham titles have not always performed in the UK; Wild Card took £410,000 via Lionsgate in 2015, Homefront took £1.1m also via Lionsgate in 2013, and Parker took £1.7m via eOne in 2013.
The figure also tops recent monster movie Rampage, the Dwayne Johnson star vehicle, which opened to £3.1m, or £4.1m including previews.
Teen Titans Go! To the Movies added £246,000 in its second weekend and is now up to £1.1m in the UK.
Universal
Mamma Mia! Here We Go Again continued to impress this week, despite losing its place at the top of the weekend chart.
The film dropped a meagre 14% Fri-Sun, adding a hugely impressive £3.6m in its fourth weekend. Its cume now sits at a goliath £49.3m, a figure that surpasses The Greatest Showman to make it the third highest-grossing musical in UK and Ireland history, behind only its predecessor Mamma Mia! (£68.6m) and The Full Monty (£52.2m).
The sequel looks set to surpass The Full Monty by next weekend and, on its current trajectory, it could even challenge the original Mamma Mia!'s total.
Universal also had two new openers this weekend: horror thriller Unfriended: Dark Web opened in 239 locations, grossing a soft-looking £223,110, while Wim Wender's documentary Pope Francis – A Man Of His Word rolled into 68 locations, grossing £21,593.
The studio's holdovers included The First Purge, which is up to £5.8m in the UK, Jurassic World: Fallen Kingdom, which is up to £41.3m, and Skyscraper, which is up to £5.3m.
Disney
The Incredibles 2 moved above Ant-Man And The Wasp this weekend, dropping a miniature 2% with a hugely impressive £2.4m session. The film moved to £45m and is now officially Pixar's second highest-grossing title of all time in the UK, behind only Toy Story 3 (£74m).
Ant-Man And The Wasp was down 39% this weekend, adding £2.3m for £10.5m to date.
Paramount
Mission: Impossible – Fallout was down a slim 17% this weekend, adding £2m. The film is up to £17.8m so far.
Sony Pictures
Hotel Transylvania 3: A Monster Vacation posted a very healthy uptick of 8% this weekend, adding £1.5m. It now sits on £11.7m.
20th Century Fox
The Darkest Minds, Jennifer Yuh Nelson's young adult sci-fi starring Amandla Stenberg, opened in 404 locations this weekend, grossing £388,325, an average of £961. The weekend result landed it seventh in the chart. Including previews, the title is up to £484,877.
Arrow Films
The re-release of Michael Lehmann's 1988 comedy Heathers, starring Winona Ryder and Christian Slater, on the film's 30th anniversary, took £37,933 from 107 cinemas this weekend.
Thunderbird
The Heiresses, Marcelo Martinessi's Paraguay-set drama which premiered at the Berlinale this year, opened to £31,348 this weekend from 24 sites. With previews the film has an official opening of £34,154.
Vertigo
Mike P. Nelson's US horror thriller The Domestics, opened with £24,133 from 20 sites. The Escape added £25,459 this weekend from 35 sites and is now up to £71,082.
Curzon
Artist documentary Leaning Into The Wind: Andy Goldsworthy opened in 12 locations and grossed £9,707. It has earned £11,054 including previews.
Apostasy is now up to £214,336 in the UK. The film was produced through Creative England's low-budget iFeatures scheme, which is backed by the BFI and BBC Films, and is now the second highest-grossing feature to graduate from the programme, behind only Lady Macbeth (£811,000).
Altitude
Sicilian Ghost Story took £8,328 across 19 sites this weekend for a total cume of £44,707.
Studiocanal
Family animation The Big Bad Fox And Other Tales added £5,181 (non-final) in its second weekend and is up to £22,658 to date.
Park Circus
Hearts Beat Loud added £4,135 from 12 sites this weekend and is up to £28,379.