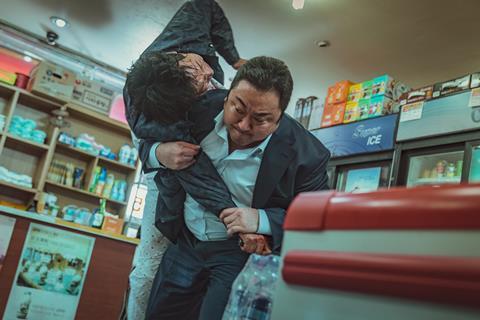 Korean action film The Roundup and US sci-fi The Artifice Girl won the gold awards for best Asian feature and best international feature, respectively, at the audience awards for the Fantasia International Film Festival in Montreal, which wrapped its 26th edition on August 3.
Starring Eternals and Train To Busan's Done Lee as a 'best of a cop', The Roundup is directed by Lee Sang-yong and acts as a sequel to 2017's The Outlaws. The gold winner was also a box office hit in South Korea, recording over 12.5 million admissions (as of July 8).
Taking home the silver award for best Asian feature was July Jong's Korean drama Next Sohee which premiered in Cannes' Critics Week and picked up best director at Fantasia's jury awards announced last week. Baz Poonpiriya's One For The Road from Hong Kong and Thailand recieved bronze.
International winners
International feature winner The Artifice Girl is directed by Franklin Ritch and explores the ever-growing role artificial intelligence is playing in modern society.
Spanish-Argentian drama La Pieta from Eduardo Casanova secured the silver prize while US comedy-horror Deadstream by Joseph and Vanessa Winter was awarded bronze.

Princess Dragon from French directors Anthony Roux and Jean-Jacques Denis won gold in best animated feature. Silver went to Masaaki Yuasa Inu-Oh from Japan, which originally premiered at Venice Horizons last year and had already received Fantasia's Axis: Satoshi Kon Award For Excellence In Animation, and bronze was given to Jun-pyo Hong's Chun Tae-il: A Flame That Lives On which had picked a jury distinction prize at Annecy earlier this year.

Home grown stars
In the best Canadian feature section, The Fight Machine picked up gold while Jesse T. Cook's Cult Hero received silver and Luke Higginson's Relax, I'm From The Future got bronze.
Best Quebec feature went to Alexandre Leblanc's Les Pas D'allure while Raphaël Hébert's Bright Star picked up silver and bronze was given to Marc Beaupré's La Guêpe.
For best documentary, US comedy-documentary The Pez Outlaw from directors Amy Bandlien Storkel and Bryan Storkel got gold, Marc Joly-Corcoran's Que Le Fan Soit Avec Toi from France got silver and Ry Levey's Out In The Ring, also from Canada, received bronze.
The previously announced jury awards saw Karim Ouelhaj's Belgian genre title Megalomaniac take home best international feature.