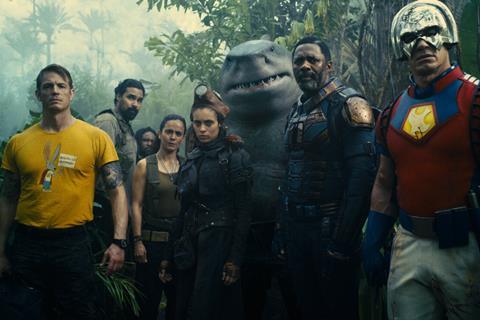 | Rank | Film (Distributor) | Three-day gross (Aug 6-8) | Total gross to date | Week |
| --- | --- | --- | --- | --- |
| 1 | The Suicide Squad (Warner Bros) | £2.27m | £7.98m | 2 |
| 2 | Jungle Cruise (Disney) | £1.96m | £6.16m | 2 |
| 3 | Space Jam: A New Legacy (Warner Bros) | £1.07m | £8.97m | 3 |
| 4 | The Croods 2: A New Age (Universal) | £866,792 | £5.9m | 4 |
| 5 | Black Widow (Disney) | £537,676 | £17.49m | 5 |
GBP to USD conversion rate: 1.39
The Suicide Squad topped the UK and Ireland box office for a second consecutive weekend, whilst Stillwater starring Matt Damon was the highest new opener in seventh.
Warner Bros' The Suicide Squad took £2.27m on its second session, a fall of 30%, to put it on £7.98m to date. The James Gunn-directed DC adaption is a sequel/reboot to the 2016 version directed by David Ayer, which finished on £33.6m in the UK and Ireland.
The rest of the UK-Ireland top five also remained the same for the second week in a row, with no new releases able to knock the studio blockbusters off their pedestals. Still in second, Jungle Cruise took £1.96m, down 14% from last weekend, with £6.16m after two sessions.
Space Jam: A New Legacy took £1.07m in its third session, bringing the LeBron James fronted family film's total takings up to £8.79m.
Returning to fourth place, The Croods 2: A New Age took £866,792, bringing it to £5.9m across four sessions. In fifth, Black Widow's £537,676, down 32% from last week, brings its total to £17.49m from five sessions.
DreamWorks Animation's escapade Spirit Untamed took £487,516 in its second weekend, bringing its total to £1.6m.
'Stillwater' opens seventh
eOne distributed thriller Stillwater is the highest-grossing new release this week, taking £441,000 from 490 locations for a £900 location average. With previews, its total comes to £478,000, enough for seventh place in the chart. Starring Matt Damon, it premiered out of competition at this year's Cannes film festival.
Universal's Old has slipped from sixth place last week to eighth this weekend, taking £296,778. M Night Shyamalan's horror is up to £2.86m from three sessions.
The Last Letter From Your Lover, released by Studiocanal in 550 locations and adapted from a romance novel by Jojo Moyes, took £256,991 in its opening weekend, at an average of £467 and a total of £274,321 including previews. The previous screen adaptation of Moyes' work, Me Before You, took £1.8m from 445 locations in its opening weekend back in 2016.
The Forever Purge took £216,827 in its fourth session for a £3.21m total. Fast & Furious 9 added £155,125 in its seventh session, taking it to £16.1m. Peter Rabbit 2 took £135,000 in its 12th week, with total takings now £19.66m.
South Korean pop group Blackpink commemorated their fifth anniversary with behind-the-scenes film Blackpink: The Movie, distributed by Trafalgar Releasing. It opened with £81,929 at 255 locations, for a £321 average.
Animated fantasy adventure Moonbound, distributed by Signature Entertainment, took £74,874 across 298 locations in its opening weekend, averaging £251.
Sony Pictures' road trip movie Zola, which premiered at Sundance in 2020, opened with £49,600 from 110 locations, an average of £451.
Universal's Profile, which premiered at the Berlin Film Festival in 2018 and follows an undercover British journalist who infiltrates the online propaganda of the so-called Islamic State, took £32,952 across 139 locations in its opening weekend, averaging £237.
Another new release, the Vertigo distributed Boys From County Hell, made £27,090 at 117 locations, with an average of £232, and a total of £27,884 including previews.
Escape Room: Tournament Of Champions added £44,000 in its fourth session, bringing its total takings to £1.05m.
For the BFI, a re-release of 1942 Bette Davis drama Now, Voyager took £7,646 at 11 locations, with an average of £695, while the Amazon rainforest-set The Fever made £1,535 at eight locations, averaging £192 for New Wave Films.