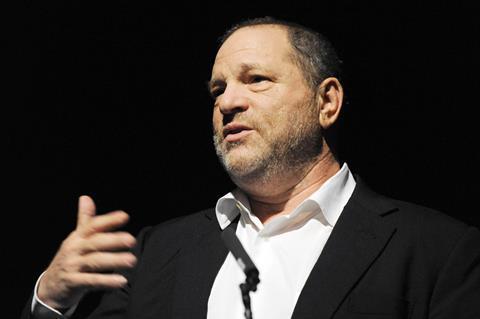 It emerged on Monday night that The Weinstein Company Holdings LLC has filed for bankruptcy and entered into a "stalking horse" agreement to sell its assets to Dallas-based private equity firm Lantern Capital Partners. At the same time the board publicly urged anybody who signed an NDA with disgraced former executive Harvey Weinstein to speak up.
The agreement with Lantern calls for TWC to file for bankruptcy and comes several weeks after a $500m sale to a consortium led by billionaire Ron Burkle and former Obama administration official Maria Contreras-Sweet fell through.
Announcing the agreement (March 19), the TWC board said it was tearing up the notorious NDA agreements that have come to light in recent months, effectively condoning further allegations against Weinstein. Former UK assistant Zelda Perkins was the first to break her NDA when she spoke out in an interview with the Financial Times last October. Perkins participated in the documentary Working With Weinstein that aired on Channel 4 last month.
"Today, the Company also takes an important step toward justice for any victims who have been silenced by Harvey Weinstein," the TWC board said in a press release issued on Monday night (March 19).
"Since October, it has been reported that Harvey Weinstein used non-disclosure agreements as a secret weapon to silence his accusers. Effective immediately, those "agreements" end. The Company expressly releases any confidentiality provision to the extent it has prevented individuals who suffered or witnessed any form of sexual misconduct by Harvey Weinstein from telling their stories.
"No one should be afraid to speak out or coerced to stay quiet. The Company thanks the courageous individuals who have already come forward. Your voices have inspired a movement for change across the country and around the world."
Weinstein faces dozens of accusations ranging from rape to sexual harassment and is under investigation by detectives in London, New York, and Los Angeles. He "unequivocally" denies any non-consensual sex.
TWC entered into the agreement with Lantern as it filed a voluntary petition under the US Bankruptcy Code in the US Bankruptcy Court in the District of Delaware. Lantern will purchase the assets subject to conditions including approval of the bankruptcy court.
According to the parties, Lantern has made clear to the TWC board its commitment to maintain the assets and employees as a going concern.
In a statement released on Monday night, Bob Weinstein said, "While we had hoped to reach a sale out of court, the board is pleased to have a plan for maximizing the value of its assets, preserving as many jobs as possible and pursuing justice for any victims."
The board also expressed its appreciation to New York attorney-general Eric Schneiderman and his colleagues for helping the Company achieve these objectives.
Lantern co-founders Andy Mitchell and Milos Brajovic said: "We are honored to be selected as the bidder to acquire the company's businesses as an ongoing concern. In the last several months, Lantern has evaluated the company and is proud to provide a solution to the board.
"As with all our businesses, Lantern will improve the performance of the company's businesses with the utmost respect to all employees and promote a diverse and transparent environment. We are grateful for everyone involved in the transaction and look forward to following through on our promise to reposition the business as a preeminent content provider, while cultivating a positive presence in the industry."
In an unrelated development on Monday, the New York state attorney-general is to look into a claim that the Manhattan district attorney-general Cyrus Vance chose not to prosecute Weinstein over what an open letter from the Time's Up movement called "sexual abuse crimes" against model Ambra Battilana dating back to 2015.