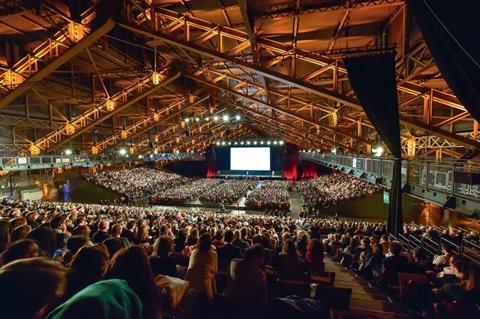 France's Lumière Festival in Lyon is intending to push on with its upcoming physical edition in October in spite of fresh Covid-19 restrictions in its home city of Lyon in southeastern France.
The festival is spearheaded by Cannes Film Festival delegate Thierry Frémaux in his other role of Institut Lumière general director, and the institute's president, director Bertrand Tavernier. It is is due to take place on October 10 to 18 this year.
Some 200,000 people normally attend the event but this year's edition will be a more modest affair after the regional government for the entire Auvergne-Rhône-Alpes region in southeast and central France announced a string of measures on Monday aimed at combating the spread of coronavirus.
They included a ban on events gathering more than 1,000 people, against a previous level of 5,000, as well as the extension of obligatory mask-wearing inside and within a 500-metre radius of schools and other educational establishments as well as public spaces like cinemas and concert halls.
The festival said it had taken note of the new measures, particularly the fresh restrictions on numbers to below 1,000 people.
It said the latter restriction would impact the big events of the festival such as the opening night in the Tony Garnier concert hall, which has a capacity of up to 5,500 seated places, and a planned tribute to Oliver Stone in the 2,100-seat Auditorium de Lyon, but that they would all go ahead nonetheless.
"They will be adapted to respect the new security norms," the festival said in a statement. "For the rest, the festival can continue its central activities of cinema screenings, the festival village, catering, bookshops and galleries. These activities will run under the current health regulations or those which are in place in October if things change."
It said the festival box office, which opened for business on September 10, would remain open and had already sold 25,000 tickets.
Frémaux has already lived through the cancellation of the 2020 edition of Cannes due to the Covid-19 pandemic. He wrote an open letter with Tavernier at the end of August in which they vowed to muster the fighting spirit to make the Lumière Festival exist this year.
Cases of the virus have surged in France in recent weeks after a lull in the early summer after a two- month national lockdown, with some 5,000 cases registered in the 24 hours up Monday afternoon, after a 13,400 spike on Friday.