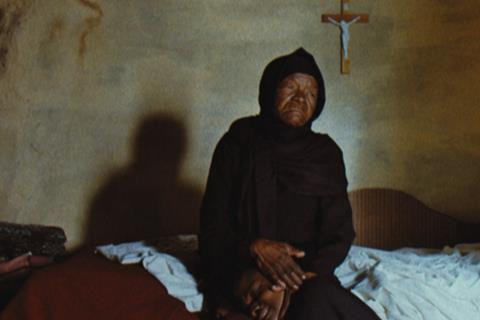 Lesotho filmmaker Lemohang Jeremiah Mosese's drama This Is Not a Burial, It's a Resurrection has won best international film at the 36th Haifa International Film Festival's Carmel Competition.
The win adds to a growing number of awards for the feature which world premiered earlier this year at Sundance and also won best narrative feature at the Hamptons International Film Festival in the US over the weekend.
Set against the backdrop of a rural community in Lesotho in southern Africa, it revolves around an elderly woman who leads a campaign to stop her village from being forcibly resettled to make way for a dam.
The jury, presided over by Iranian director Mohsen Makhmalbaf, praised the film as a "new peak in African cinema".
In the same competition, Ilya Khrzhanovsky and Yekaterina Oertel's DAU. Natasha was also awarded a special mention, with the jury saying of the film: "The film is rough and relentless. The acting is masterful and the cinematic language skillfully unfolds the story and sets its very realistic tone."
This year's edition of Haifa ran entirely online from October 3 to 10 due to a three-week nationwide lockdown in Israel to combat a surge of Covid-19 cases in the country.
The festival's industry programme aimed at fostering Israeli productions also went ahead digitally.
Within this framework, five works in progress were showcased to an international jury comprising Polish producer Irena Strzalkowska and Janja Kralj of Paris-based production company KinoElectro as well as Michael Reuter, managing director of Berlin-based The Post Republic and Alice Rathert, a VFX producer at Berlin and London-based special boutique Automatik VFX.
The top €20,000 post-production grant provided by Berlin-based company The Post Republic went to Orit Fouks Rotem's Cinema Sabaya, which is produced by Green Productions.
The development focused international pitching conference also went head online with the jury flagging up three projects: Lee Gilat's drama Upside Down, Roy Assaf's Bordel Total and Rita Borodiansky's Check Points.