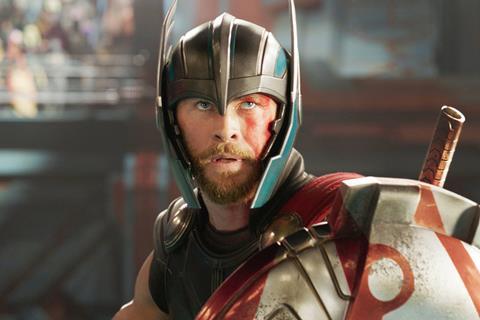 Marvel Studios' Thor: Ragnarok added $77.3m from 56 territories, while Murder On The Orient Express earned $47.4m from 57 markets at the weekend.
WALT DISNEY STUDIOS MOTION PICTURES INTERNATIONAL
UPDATED: Thor: Ragnarok grossed $77.3m from 56 territories for $440m internationally and $652.1m worldwide. Thor: Ragnarok has already passed the lifetime totals of Thor and Thor: The Dark World, which generated $268m and $438m, respectively. It has also surpassed the earlier 2017 releases of both Logan and Wonder Woman, which earned $391m and $409m, respectively.
The film is now open in all markets. Marvel's latest remained at number one for the weekend in China, as well as in Hong Kong, Indonesia, South Korea, Malaysia, New Zealand, the Philippines, Taiwan, and at least 20 other markets. Taika Waititi's latest instalment in the Thor franchise already ranks as the number nine release of 2017 internationally, giving the three 2017 Marvel Cinematic Universe releases three of the top nine international spots of 2017 to date.
The film displayed strong holds in several markets in its third weekend, including a dip of only 32% in the UK, while Argentina, Germany, and Australia saw drops of only 37%, 38%, and 41%, respectively. IMAX has delivered a global total of $50m.
China is the top grossing market by a large margin on $95.4m, followed by the UK on $34m, South Korea on $31m, Brazil on $24.2m, and Australia on $20.4m. France has produced $17.7m, Russia $17.5m, Mexico $16.8m, Germany $13.3m, Indonesia $11.4m, and India $9.9m.
Meanwhile, Pixar's Coco grossed a further $8.4m in its early Mexico engagement, with the third weekend dropping just 23%. After just 17 days of release, Coco is already the number two release of all time in Mexico, as well as the highest-grossing animated release of all time there. The film currently stands at $41.4m, and opens in the US on November 22, kicking off an extended global rollout.
The strong international results of Thor: Ragnarok and Coco has pushed The Walt Disney Studios across the $3bn international box office threshold on $3.089bn.
FOX INTERNATIONAL
UPDATED: Murder On The Orient Express earned $47.4m from 57 international markets over the weekend for a running total of $58.8m. Kenneth Branagh's adaptation earned $19.1m in China, four times bigger than The Great Gatsby; $6.2m in Russia, which more than twice as big as Gone Girl; while Australia generated $3.1m, and Mexico $1.2m.
Meanwhile, the UK earned $5.8m in the second weekend of releas for $17.3m. Overall, Murder is outpacing The Great Gatsby and Gone Girl in the same group of markets at current exchange rates. There are 27 international market releases still to come, including Brazil, France, India, Italy, Japan, South Korea and Spain.
The Mountain Between Us added $2.3m from 1,156 screens in 23 markets, taking the international total to $22.6m. France leads the international weekend on $837,000, followed closely by Brazil on $565,000, and Holland on $276,000. Kingsman The Golden Circle added $1.4m from 1,721 screens in 20 markets. The international total is now $294m, with Japan scheduled for release on January 5.
STUDIOCANAL
Paddington 2 generated $11.5m in its first international forays. The Weinstein Company remains the official distributor in North America, however the family sequel's fate remains up in the air as financier Studiocanal and producer David Heyman decide what to do with the film in North America in the wake of the Harvey Weinstein sex scandal.
LIONSGATE INTERNATIONAL
UPDATED: Jigsaw has reached $80m globally after its third weekend, already surpassing the worldwide and international lifetime of Saw 6. The latest instalment in the Saw franchise took in a further $8.9m from 73 markets, bringing the international total to $45.6m. The horror launched in Mexico on $462,000 from 369 screens, beating the opening weekend of Saw 4, 5 and 6 by 514%, 356%, and 567%, respectively, based on local currency.
Norway generated $144,000 in week one, beating Saw 6 by 1,343%. Japan produced $449,000 from 120 screens. The UK remains the top market on $6.4m, followed by Russia on $5m, and Germany on $4.3m. My Little Pony: The Movie added another $1.1m from 68 markets for $28.7m. The UK is the top grossing market on $4.7m, followed by Russia and Germany on $2.4m and $2.3m, respectively.
STXinternational
UPDATED: A Bad Moms Christmas opened in nine international markets, and added a further $8.4m from 2,490 locations, for a running international total of $18.2m. The sequel is outperforming Bad Moms in most territories.
UNIVERSAL PICTURES INTERNATIONAL
UPDATED: Universal and Blumhouse's Happy Death Day has grossed $6.9m from 52 territories for a total of $33.3m. Combined with the North American total of $54.9m, the worldwide total is $88.2m. The film opened in five territories, with South Korea ending the weekend as the top opener. The film kicked off there on Wednesday at number three and has been building through the weekend. The horror will finish the weekend at number two on $3.7m.
Italy opened at number two behind a local film on $1.1m, which is twice as big as the opening of Get Out. Spain generated $914,000 for third place. There are 11 territories left to open, starting this week in France, Germany, and Austria.
Universal and Working Title's The Snowman grossed $996,000 from 34 territories bringing the running tally to $29.7m internationally and $36.4m worldwide. Hong Kong generated $160,000 for third place, beating the debut of Wind River. Germany delivered $277,000 in week six for a running total of $4.3m. The Netherlands produced $176,000 for a total of $557,000. Michael Fassbender's crime thriller debuts in Belgium and Turkey this week.
Marrowbone, a thriller from Spain that Universal is distributing there, is holding at number two in its third week. The film grossed $970,000 for a total of $5.3m. Victoria And Abdul grossed another $939,000 from 47 territories for $38.8m internationally and $59.9m, with $21.1m coming from North America. The film debuts in Brazil, Mexico, Colombia, and Ecuador this week.
WARNER BROS PICTURES INTERNATIONAL
UPDATED: Geostorm grossed $6.2m over the weekend on approximately 7,277 screens in 65 markets. This brings the international running total to $168.2m. France generated $678,000 from 86,000 admissions on 295 screens for $2.6m. Elsewhere, Italy delivered $380,000 for $1.7m after 12 days. China generated $1.7m (RmB 11.3m) for $63.5m and ranks as the top market, followed by Russia on $10m, Mexico on $8.6m, Taiwan on $7.6m, South Korea on $7.5m, and the UK on $5.6m.
IT grossed a further $2.8m, bringing the running international total to $356.8m, and taking the worldwide tally to $683.5m. Japan produced $2m for $6.4m during its second session, increasing 22% over last week's debut. The UK is the top grossing market on $42.5m, followed by Germany on $35.1m, Mexico on $27.6m, Brazil on $19.9m, and France on $19.4m.
PARAMOUNT PICTURES INTERNATIONAL
Comedy sequel Daddy's Home 2 opened in its first two international markets grossing $429,000. This combined result is 5% above Daddy's Home on a like-for-like basis. Romania produced $221,000 from 69 locations, while the Netherlands produced $208,000 from 90 locations.