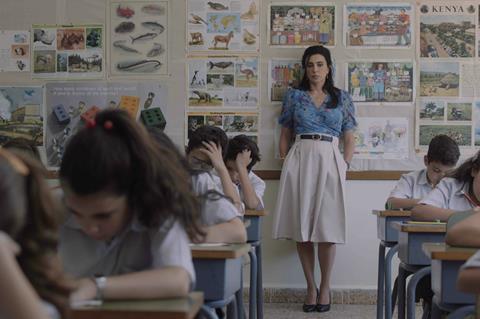 Anick Poirier and Lorne Price's new sales agency WaZabi Films has announced its first acquisition, picking up the majority of worldwide rights to Lebanon-set 1982 starring Nadine Labaki ahead of its world premiere in TIFF Discovery next month.
Oualid Mouaness' feature debut takes place against the backdrop of the 1982 invasion of Lebanon and is set at a private school on the outskirts of Beirut, as 11-year-old Wissam tries to tell a classmate he loves her.
Meanwhile his teachers – on different sides of the political spectrum – try to hide their fears as the Israeli airstrike threatens to change everything. The cast includes Mohamad Dalli, Rodrigue Sleiman, Aliya Khalidi, Ghassan Maalouf, Gia Madi, Lilia Harkous, Said Serhan, Zeina Saab de Melero, and Joseph Azoury.
Mouaness, Georges Schoucair, Myriam Sassine, Alix Madigan-Yorkin, and Christopher Tricarico serve as producers on the feature from Tricycle Logic (US-Lebanon), Abbout Productions (Lebanon), and Mad Dog Films (Lebanon). Executive producers are Rodney Adler, Jessie Creel, Anderson Hinsch, Candice Abel Mikati, Fouad Mikati, Jorge Takla, Christopher Alender, and David A. Smith.
WaZabi holds worldwide rights excluding Middle East, and jointly represents US and Canada with Los Angeles-based sales agent Tricarico Chavez. The USA-Lebanon-Norway-Qatar feature is in Arabic and English, and was made with the support of Doha Film Institute, Sorfond +, Creative Media Europe, Fonds Image de la Francophonie, and Sundance Institute Feature Film Program.
"The film takes place against the backdrop of war, but you never see war. Everything is seen through the eyes of the children, which is refreshing. It's reminiscent of Monsieur Lazhar, with reality reflected through the eyes of the children," said Poirier.
"It's our first acquisition for the WaZabi label and we're so proud. It's such a quality film with a great team behind it. It sets the bar in terms of the films we're looking for."
Poirier will launch talks next month in Toronto, where the slate includes Sophie Deraspe's previously announced Contemporary World Cinema entry Antigone. Featuring on the Venice sales slate are Fabienne Berthaud's Venice Days selection Un Monde Plus Grand starring Cécile de France, and Jared P. Scott's documentary The Great Green Wall at Giornate degli Autori, on which Fernando Meirelles serves as executive director.
WaZabi launched last month with the aim of building a stable of independent features with crossover potential, and art house films with awards pedigree from Québec, Canada, and the world.
Poirier, former head of international sales at Séville International, and Price, former director of sales at Seville International, serve as co-presidents of the new venture, which was set up under the umbrella of production company DATSIT Sphere Inc.
The company struck a deal with Les Films Séville to handle exclusive distribution of the Séville International catalogue, including Cannes selections Matthias et Maxime from Xavier Dolan and Monia Chokri's La Femme de Mon Frère.
TIFF is set to run from Sept. 5-15.