Abderrahmane Sissako considering historical novel, which captures adventures of a 15th century Arab diplomat, writer and explorer.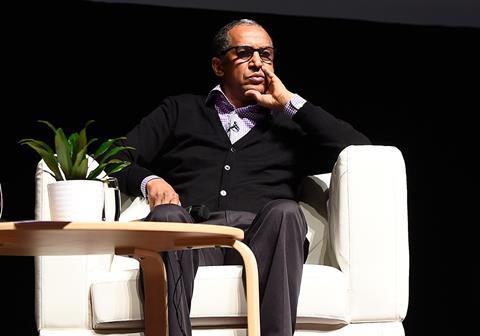 Mauritanian filmmaker Abderrahmane Sissako is mulling an adaptation of Lebanese writer Amin Maalouf's Leo the African, a historical novel based on real-life 15th century Muslim diplomat and explorer Hasan al-Wazzan.
It is one of two projects being considered by Sissako, whose most recent film Timbuktu was Oscar-nominated and won prizes at Cannes 2014.
"I was already working on a project before Timbuktu about the relationship between China and Africa and I've also had a proposition to adapt Amin Maalouf's Leo the African (Léon, l'Africain), which I'm very interested in," the director told Screen on the fringes of the Doha Film Institute's Qumra event this week.
Maalouf's 1986 novel is inspired by 15th century figure al-Wazzan, a Muslim forced to flee his Spanish birthplace of Granada as a child during the inquisition.
He went on to become an ambassador for the Moroccan Sultan of Fez, travelling the Mediterranean basin and Africa for his work, even visiting Timbuktu, a thriving centre for trade and learning at the time.
Sissako said he would make a decision on which project to embark on first at the end of the year.
"Timbuktu is still travelling, it's still alive but it's going to calm down, in six months or so things should be clearer," he said. "I have my rhythm."
He admitted it had been a whirlwind year.
Oscar-nominated Timbuktu, capturing a Malian village's suffering and resistance under brutal occupation by a group of Jihadi fighters, is still going strong in cinemas around the world some 10 months after it premiered in Cannes.
More than one million people have seen the film in France alone, where it gained fresh relevance following the massacre of 12 people at the offices of satirical magazine Charlie Hebdo in January.
Last week, the film received a warm welcome at Africa's largest film festival, the bi-annual FESPACO in the city of Ouagadougou in Burkina Faso. At Qumra, it played to an enthusiastic audience in a packed screening.
"What's happened to the film is exceptional. I know that what I recount didn't kick off with the film and this news isn't about to come to an end any time soon. Every time something happens, that reignites interest in the film… which is regrettable on some levels," said Sissako.
The director is attending Qumra, a six-day event aimed at nurturing emerging talent in the region and beyond with inspirational masterclasses and hands-on practical support, as one of the programme's master tutors.
Masterclass
At his Qumra masterclass on Tuesday, Sissako talked about his journey from a happy childhood in Mali, to the one-room apartment he shared later with his mother in Mauritania, to the respected VGIK film school in Moscow and then building a career out of France in the 1990s and 2000s.
Sissako recounted that his early years at VGIK were difficult because, having grown-up in Africa, he did not have the same cultural references.
His initial reasons for trying to work in cinema, he revealed, had been linked to a long-lost older brother who had gone down that route and had also attended VGIK.
"At the entry examination, I got all the answers wrong. The examiners wanted to know whether I knew and loved cinema but I didn't really know anything about cinema… I didn't know the Nouvelle Vague, Italian cinema. I think they were surprised to be confronted with someone who wanted to work in cinema, without any knowledge of cinema."
"They were also interested in my level of general culture but the questions they asked weren't related to my culture. I'd never listened to Mozart or Bach. I didn't know the paintings of Picasso or Gauguin," he continued.
"But in my head, I had the music I'd listened to since my childhood and painting for me was day to day life on the street, people passing by, going about their business, but I wasn't capable of explaining this."
In spite of his inauspicious examination performance, Sissako was accepted at the school, where he studied for five years under the supervision of Russian filmmaker Marlen Martynovich Khutsiev.
He credits Khutsiev with giving him the confidence to go ahead with a career in cinema.
At VGIK, Sissako's ignorance of world cinema was soon rectified. "We'd watch two films a day, it was mandatory, so I got to know American cinema, John Cassavetes; Italian cinema De Sica, Visconti… the discovery of Italian cinema was revelatory for me… it's a cinema that draws on life in the street. My life in Africa and Mali had always been on the street. The street was always important for me. Our doors were never closed. I discovered that I too could tell stories that take place on the street."
Early films
This fascination with real-life on the street runs through all of Sissako's subsequent work.
Talking about how he came to make his medium-length work, Life on Earth (La vie sur terre), commissioned as part of Arte's milliennium-themed 2000 Seen by collection, Sissako revealed he had originally set to shoot an English-language work set in South Africa.
"I wasn't convinced by the project. I don't speak English and I didn't know South Africa. At the last moment, I pulled out… I like to take my time and when you take your time, you have to do things that make sense," said Sissako.
He convinced Arte to allow him to return to his father's village in Mali, where he had spent much of his childhood, to shoot a story there, even though he had only a vague idea of what he was going to do.
"For me, movies should have meaning so I decided to go back and tell what I knew, what I missed, to write a simple story and shoot simple scenes with people I knew. I wanted to show life that you don't see every day, what actually happened on earth."
The resulting film, homed in on the village's phone booth and revolved around the stories of the people who used it keep in touch with loved ones.
"The telephone booth was where people came to call their parents and talk on the phone. They held it in their hands and I noticed they had a huge desire to communicate with each other and so I decided to shoot the movie around this idea."
"We don't have to look for stories that are distant to us, we can look for stories in our own home. I love cinema when it's close to us. I like to shoot people who are fragile, vulnerable and I like to shoot a simple life – life is about looking for life."