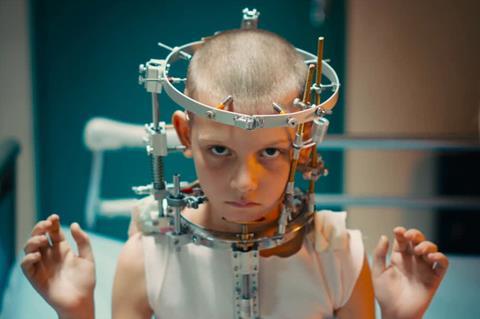 Camerimage, the international festival for cinematographers that takes place annually in Poland, has unveiled the line-ups for its documentary features and director's debut competitions.
The festival's 29th edition is set to take place in person in Toruń from November 13-20, with some programming also available online.
Among the nominees is Cannes Palme d'Or winner and France's best international film Oscars entry, Titane, which has been nominated in Camerimage's director's debut category. Although it is not French director Julia Ducournau's debut feature – she directed 2016's Raw – the selection committee allows for first and second features to participate.
Scroll down for the full line-up
Also nominated in this category is London-born actor Rebecca Hall for her directorial debut Passing, which premiered in Sundance. The drama is set in 1929 Harlem and stars Tessa Thompson and Ruth Negga as childhood friends who unexpectedly reunite in adulthood.
Netflix's A Cop Movie, a Mexican docu-drama directed by Alonso Ruizpalacios which premiered in Berlin and has also played in San Sebastian and at the London Film Festival, has been nominated in the documentary feature category. It follows two professional actors who immerse themselves in the police force in Mexico City, where Ruizpalacios was born.
Camerimage 2021 awards - documentary feature
Bucolic (Pol)
Dir. Karol Pałka
A Cop Movie (Mex)
Dir. Alonso Ruizpalacios
Faya Dayi (Ethiopia-US-Qat)
Dir. Jessica Beshir
Kodokushi (Turkey)
Dir. Ensar Altay
The Last Forest (Bra)
Dir. Luiz Bolognesi
The Lost Boys (Fin)
Dirs. Sadri Cetinkaya and Joonas Neuvonen
My Voice Will Be With You (Bel-Fr)
Dir. Bruno Tracq
Notturno (It-Fr-Ger)
Dir. Gianfranco Rosi
A Portrait On The Search For Happiness (S Afr)
Dir. Benjamin Rost
Where Are We Headed (Belarus-Rus)
Dir. Ruslan Fedotow
Director's debut
200 Meters (Palestine-Jor-Qat-It-Swe)
Dir. Ameen Nayfeh
The Getaway King (Pol)
Dir. Mateusz Rakowicz
Goodbye Soviet Union (Est)
Dir. Lauri Randla
Great Freedom (Austria-Ger)
Dir. Sebastian Meise
Kill Pinochet (Chile)
Dir. Juan Ignacio Sabatini
Neighbours (Switz-Kur)
Dir. Mano Khalil
Passing (US)
Dir. Rebecca Hall
Rival (Ger-Ukr)
Dir. Marcus Lenz
Ted K (US)
Dir. Tony Stone
Titane (Fr-Bel)
Dir. Julia Ducournau