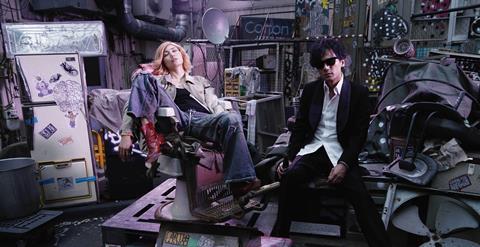 Tokyo International Film Festival (TIFF) has announced the full line-up for its 32nd edition, including the 14 titles selected for its International Competition.
In addition to previously announced Japanese titles Tezuka's Barbara from Macoto Tezka and Shin Adachi's A Beloved Wife, the competition will screen five other world premieres including Chinese director Wang Rui's Chaogtu With Sarula, Food For A Funeral from Turkey's Reis Celik and Uncle from Danish director Frelle Petersen.
Asia premieres in this section include Jayro Bustamente's La Llorona and Dominik Moll's Only The Animals (see full line-up below).
Chinese actress Zhang Ziyi will serve as president of this year's competition jury, which also includes US producer Bill Gerber, French actress and producer Julie Gayet, Danish director Michael Noer and Japanese filmmaker Ryuichi Hiroki.
Yoji Yamada's Tora-san, Wish You Were Here will open the festival, with Yoshihiro Nakamura's The 47 Ronin In Debt also playing at the opening and Masayuki Suo's Talking The Pictures receiving a Gala Screening.
Martin Scorsese's The Irishman, previously announced as the closing film, will now screen in TIFF's Special Screenings section, so it can play on the 4K-enabled screen at Toho Cinemas Roppongi, rather than the closing ceremony venue.
Special Screenings also includes titles such as Wash Westmoreland's Earthquake Bird, Taika Waititi's Jojo Rabbit, Noah Baumbach's Marriage Story and Chinese director Yu Fay's Wings Over Everest.
Japan Now includes titles such as Kiyoshi Kurosawa's To The Ends Of The Earth, Makoto Nagahisa's We Are Little Zombies and Isshin Inudo's Samurai Shifters, along with five titles from Director in Focus Nobuhiko Obayashi.
The Asian Future section will screen six world premieres, including Bradley Liew's Motel Acacia and Hong Kong director Wong Hing Fan's I'm Living It, along with two international premieres.
TIFF is also launching a dedicated Japanese Animation section, which will screen recent hits such as Weathering With You and Promare, along with classics such as Akira.
At the press conference today in Tokyo, TIFF director Takeo Hisamatsu explained how the festival is focusing on Japan for this edition: "Next month, the new emperor's enthronement ceremony will be held, and guests will be coming to Japan from all over the world. We also have the Tokyo Olympics next year, which has drawn a lot of attention to Japan. So we've also decided to highlight Japan in this year's TIFF."
Commenting on Yamada's opening film, TIFF chairman Hiroyasu Ando said: "Yamada made the first Tora-san film in 1962 and for many years made a new film every six months. He has talked about shifting the gears in this first year of the Reiwa Era, and I also believe it's a good time to shift gears to a new direction."
This year's TIFF will take place October 28 to November 5 at Roppongi Hills, EX Theater Roppongi, Hibiya Step Square and other venues in Tokyo.
TIFF 2019 INTERNATIONAL COMPETITION:
Advantages Of Travelling By Train (Spain/France), dir: Aritz Moreno IP
Atlantis (Ukraine), dir: Valentyn Vasyanovych AP
A Beloved Wife (Japan), dir: Shin Adachi WP
Chaogtu With Sarula (China), dir: Wang Rui WP
Disco (Norway), dir: Jorunn Myklebust Syversen AP
Food For A Funeral (Turkey), dir: Reis Celik WP
Just 6.5 (Iran), dir: Saeed Roustaee AP
La Llorona (Guatemala/France), dir: Jayro Bustamante AP
Mañanita (Philippines), dir: Paul Soriano WP
Nevia (Italy), dir: Nunzia De Stefano AP
Only The Animals (France), dir: Dominik Moll AP
Tezuka's Barbara (Japan/UK/Germany), dir: Macoto Tezka WP
Towards The Battle (France/Colombia), dir: Aurelien Vernhes Lermusiaux WP
Uncle (Denmark), dir: Frelle Petersen WP