Speculation was mounting on Monday evening that Peter Chernin or Chase Carey could land the top job at Disney after it emerged that Tom Staggs, the COO long regarded as the heir apparent to Bob Iger, will step down.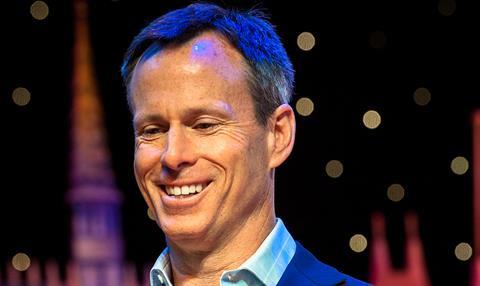 The news was announced in a press release by Disney that caused the company's shares to drop 1.7% after trading. Staggs will step down on May 6 and remain as special advisor to Iger through this fiscal year. No reason was given for the departure.
The 55-year-old has been at Disney for 26 years and ran the resorts unit and served as Disney CFO before climbing to COO in February 2015.
He had been viewed as the likely successor to Iger, 65, whose contract runs through June 2018. However there has been speculation that the COO may have decided to move on after learning that the board was eager to broaden its search for a successor.
This means that, in a rare move, an Iger replacement would most likely come from outside Disney given the relative lack of experience among higher ranking in-house executives of the corporation's varied businesses, a necessary track record that instils confidence in shareholders.
It is understood there were reservations about the all-round profile of Staggs, a finance specialist said to lack broader creative experience in, for example, the film or TV units.
His departure may also have been prompted by the realisation that the board might try to entice Iger to extend his reign.
Despite declining ESPN subscriptions, the Iger era has seen the acquisition of Marvel Studios, Lucasfilm, and Pixar. Ironically Staggs is understood to have played a key role in another potential bright spot — the upcoming June launch of Shanghai Disney Resort in China.
Enter the other candidates for the top job. Chernin was Rupert Murdoch's trusted lieutenant for many years and served as president and COO of News Corp. He currently runs production venture The Chernin Group.
Carey succeeded Chernin as president and COO at News Corp and served as COO and evp of 21st Century Fox after Murdoch split News Corp. He also led DIRECTV.
Other names in the frame include NBCUniversal CEO Steve Burke, and Facebook COO Sheryl Sandberg.
"Tom has been a great friend and trusted colleague for more than 20 years," said Iger in a statement. "He's made important contributions to this company, earning wide respect across the organisation for his achievements and personal integrity.

"I'm proud of what we've accomplished together, immensely grateful for the privilege of working with him, and confident that he will be enormously successful in whatever opportunity he chooses."
Staggs added: "Disney truly stands alone, not only because of the company's phenomenal creativity, but also because of the thousands of remarkable people who make it such an extraordinary place. It's been a privilege to work with them and be inspired by their creativity and commitment. It's also been a great experience to work with Bob during this dynamic era of unprecedented growth and transformation. I remain grateful for that opportunity, and I'm confident that Disney's future will be just as exciting as its legendary past."