Playwright Stoppard wins outstanding contribution award.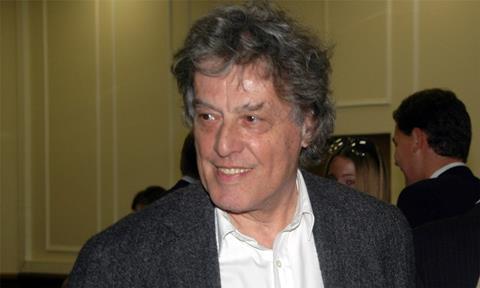 Tom Stoppard was presented with the outstanding contribution to writing award at the 2017 Writers' Guild of Great Britain Awards.
Stoppard accepted the honour from fellow playwright David Edgar at the ceremony on Monday (January 23), held at the Royal College of Physicians.
He said: "For a writer, no award can compare to an award from other writers. The Writers' Guild is a bright spot in a dark world and I feel very grateful to it."
Stoppard has written extensively for the stage, TV and film. His plays Rosencrantz And Guildenstern Are Dead, Travesties, and The Real Thing all won Tony Awards.
He also co-wrote Shakespeare In Love (which won him an Oscar) and Brazil.
Presenting him the award, Edgar said: "Like the BBC, he [Stoppard] has educated and entertained. Like no one else, he has challenged, dazzled, and amazed."
The event's best first screenplay award went to Rachel Tunnard for Adult Life Skills while best screenplay went to Guy Hibbert for Eye In The Sky.
Other winners at the event were Phoebe Waller-Bridge, who picked up the best TV sitcom award for Fleabag, and Caryl Churchill, who won for her play Escaped Alone.
Celia Imrie paid tribute to Victoria Wood at the ceremony, which was hosted by Meera Syal.