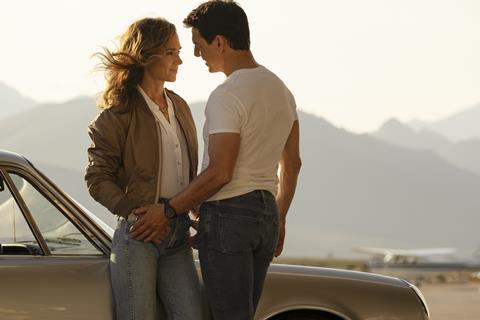 Top Gun: Maverick has crossed $600m at the North American box office and overtaken Titanic to become the biggest release in Paramount's 110-year history.
Studio executives said the Tom Cruise action sequel stood at $601.919m as of Wednesday (July 13), cementing its status as the biggest release in North America for the year to date. In its original 1997 release Titanic starring Kate Winslet and Leonardo DiCaprio finished on $600.788m. Figures are unadjusted for inflation.
The news continues a promising year for Paramount, which ranks as the number one box office force in Hollywood with close to $1.04bn in cumulative grosses and more than 24% market share, making this the studio's best year since 2014.
Top Gun: Maverick ranks 12th on the all-time North American pantheon and stands a good chance of overtaking the $608.6m mark set by The Incredibles 2 in 2018. It may well overhaul $620.2m set by Star Wars: Episode VIII – The Last Jedi in 2017 and $623.4m from The Avengers in 2012, which would elevate it to number nine.
The tentpole has grossed $595.6m from international markets and stands at $1.1975bn worldwide, where it is the biggest film of the year to date. Joseph Kosinski directed for Paramount, Skydance and Jerry Bruckheimer Films.
Notable Paramount North American box office performances this year include Sonic The Hedgehog 2 on $190.9m, The Lost City on $105.3m, Scream on $81.6m and Jackass Forever on $57.7m.