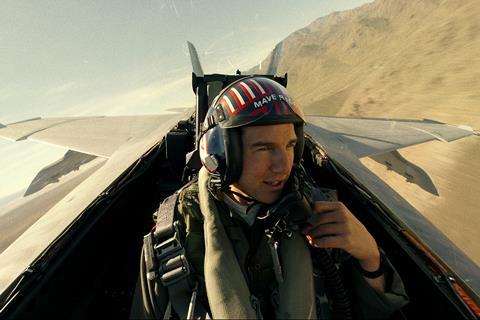 World Box Office 24-26 June
Rank
Film(distributor)
3-day(world)
Cume(world)
3-day(int'l)
Cume(int'l)
Territories

1.

Top Gun:

Maverick

(Paramount)

$75.0m
$1,006m
$44.5m
$484.7m
66

2.

Jurassic World

Dominion

(Universal)

$69.4m
$746.7m
$43.0
$443.9m
73
3.

Elvis

(Warner Bros)

$50.5
$50.5
$20.0m
$20.0m
52
4.

Lightyear

(Disney)

$40.0
$152.4m
$19.3m
$63.6m
45
5.

The Black Phone

(Universal)

$35.8m
$35.8m
$12.5m
$12.5m
46
6.

Lighting Up The Stars

(Various)

$31.6m
$36.8m
$31.6m
$36.8m
1
7.

Witch 2: The Other One

(Next Entertainment World)

$3.9m
$15.6m
$3.9m
$15.6m
1
8.

Minions: The Rise of Gru

(Universal)

$3.7m
$3.7m
$3.7m
$3.7m
1
9.

The Round Up

(Various)

$3.1m
$98.5m
$3.1m
$98.5m
10
10.

Doctor Strange

2

(Disney)

$2.9m
$950.0
$1.2m
$540.7
24
Credit: Comscore, all figures estimated, click top right to expand
'Top Gun: Maverick' is top title of 2022
Paramount and Skydance's Top Gun: Maverick returned to the top of the global box office in its fifth week of release, leapfrogging both Jurassic World: Dominion and Lightyear, and resisting the challenge of new release Elvis. Estimated weekend takings of $75.0m push Maverick through the $1bn barrier, making it the top title of 2022 at the worldwide box office – overtaking Doctor Strange In The Multiverse Of Madness ($949.9m).
The Top Gun sequel was boosted by a fresh opening in major territory South Korea, grossing an estimated $12.9m there. In international holdover markets, the film dropped just 26%, and in North America it fell 32%.
Cumulative takings are $521.7m in North America, $484.7m for international, and $1.006bn worldwide.
Top Gun: Maverick joins the now 50-strong club of titles that have grossed more than $1bn at the global box office, and is in 49th place, just ahead of The Dark Knight. Titles are quite closely packed at the lower end of this elite chart, and a box office total of $1.05bn would see Maverick shoot up into 41st place.
In cumulative totals, UK/Ireland remains the hero international market for the film, with $78.7m to date. Japan comes next with $51.1m, and then Australia with $45.5m.
On continental Europe, top territories are France ($38.8m) and Germany ($23.4m).
Denmark, with $8.9m, is punching above its weight, ahead of Spain ($7.7m) and not far behind Italy ($10.9m). Netherlands is also strong with $8.1m.
So far, there is no release in China or Russia scheduled for the film.
'Elvis' raises curtain with $50.5m debut
Baz Luhrmann's Elvis made a decent start in North America and 51 international markets, performing particularly strongly in the director's home territory Australia, as well as in UK/Ireland.
Weekend takings were an estimated $30.5m in North America (level with Top Gun: Maverick for pole position in the domestic chart), and $20.0m for international.
Australia saw an estimated opening of $4.7m – a clear number 1 in the territory's chart, and the second biggest debut for a Lurhmann film, after The Great Gatsby.
Elvis likewise topped the chart in UK/Ireland with an estimated $4.7m – roughly on par with the Rocketman opening, 12% ahead of The Great Gatsby, and 25% ahead of Warner Bros' A Star Is Born.
In key European territories France and Germany, the Elvis Presley drama landed in fourth place in both charts – with an estimated $2.0m and $1.0m respectively.
There is still some gas in the tank, with Elvis arriving in Japan this Friday (July 1), followed by South Korea on July 13, and the whole of Latin America on July 14.
To match Lurhmann's previous biggest hits, Elvis is chasing the $353.7m global total achieved in 2013 by The Great Gatsby, and $211.8m for Australia back in 2008. Moulin Rouge! reached $189.9m in 2001.
'The Black Phone' rings up $35.8m
Universal and Blumhouse's The Black Phone landed in a counter-programming move to Elvis, connecting with global audiences to the estimated tune of $35.8m: $23.4m in North America and $12.5m in international markets. Those are decent numbers for a film with a production budget estimated in the $16-18m range – although marketing costs will be higher.
Scott Derrickson's film, which is based on a child-abduction short story by Joe Hill (son of Stephen King), performed strongest in Mexico among international markets, with an estimated $3.4m – the 12th biggest debut for a horror film in the territory, excluding previews.
Next comes UK/Ireland with an estimated $1.7m opening, ahead of France ($812,000) and Saudi Arabia ($749,000).
Future key markets include Japan (July 1), Australia and Brazil (both July 21), and South Korea (September 14).
Also for Universal, Illumination Entertainment's Minions: The Rise Of Gru began its international rollout, landing in Australia and delivering a $3.7m opening – ahead of the Despicable Me 2 opening number, and close to both Despicable Me 3 and Minions. This fifth film in the Despicable Me/Minions series expands to 61 international markets this week plus North America.
'Jurassic World Dominion' closes in on $750m
Universal's Jurassic World Dominion may have been knocked off the global top spot by a gravity-defying Top Gun: Maverick, but it's not over yet for the marauding dinosaurs. The sixth film in the Jurassic series added an estimated $69.4m at the weekend, taking the total after four weeks to $746.7m.
The film's drop was 45% in international markets (where the total is now $443.9m) and 55% for North America (and a $302.8m total).
Jurassic World Dominion reached one new market at the weekend: Ukraine, which delivered a $285,000 opening. Cinemas are reopening in the west of the country, and the number is in line with recent opener Doctor Strange In The Multiverse Of Madness.
Jurassic World Dominion has benefited from release in China – a privilege that hasn't been afforded to many major US studio titles this year. Total there is now $114.3m – making China the top international territory for the film, ahead of Mexico ($39.7m) and UK/Ireland ($33.4m).
'Lightyear' slumps in second session
Disney/Pixar's Lightyear delivered disappointing second-weekend estimated takings of $19.3m in international markets (down 49% in holdover territories) and $17.7m in North America (down 65%). Cumulative total after two weekends of play is $152.4m worldwide.
The film was boosted by an opening in France, delivering an estimated $3.1m including previews, the best debut there for an animated title in 2022, and with the Fete Du Cinema price promotion and school holidays ahead of it.
In cumulative totals, Mexico is the runaway winner (among international territories) with $14.2m so far, ahead of UK/Ireland with $8.4m.
Comparisons are hard to frame, since recent Pixar titles Turning Red, Soul and Luca went straight to Disney+ in territories where the service operates. Toy Story 4 grossed $1.07bn worldwide, but Lightyear was never going to beat that. Pixar's Onward reached $191.4m worldwide, but its spring 2020 release was disrupted by cinema closures with the Covid pandemic.
'Lighting Up The Stars' boosts China box office
The arrival of Lighting Up The Stars in China, landing there with $31.6m (and $36.8m including previews), means that no fewer than six films at the weekend cleared $30m at the global box office – a notable contrast to just two weeks ago when the top two titles (Jurassic World Dominion and Top Gun: Maverick) achieved more than 90% of the total for the global top 10.
In Lighting Up The Stars, Zhu Yulong stars as an ex-con funeral director who meets an orphaned girl (Yang Eyou) – with transformative outcomes for both of them. Liu Jiangjang writes and directs for China's Lian Ray Pictures.
The success helped push China's weekend box office to a $50.4m total – up from $36.0m for the previous session, although down on the Jurassic World Dominion-boosted $59.9m total from two weekends ago. So far, China box office is running 38% behind the pace of 2021, according to Artisan Gateway.