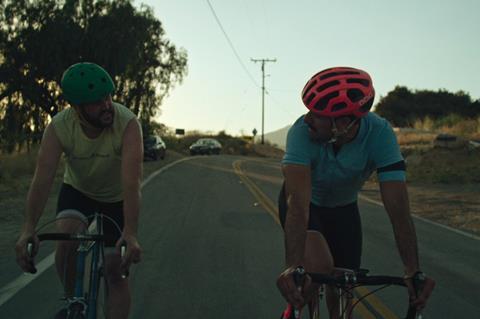 Topic Studios will finance and produce comedy drama The Climb from filmmaking team Kyle Marvin and Michael Covino, based on the short film of the same name that premiered in Sundance.
The Climb chronicles an epic lifelong friendship over several chapters and spans numerous years, marriages, heartbreaks and conflicts. Marvin and Covino star.
Topic acquired the short at this year's festival in Park City for its digital storytelling platform, Topic.com. Covino will direct his feature directorial debut from a screenplay he wrote with Marvin.
"We loved The Climb when we saw the short at Sundance, and knew Mike and Kyle had a lot more to say about their relationship, with a truly unique voice," said Adam Pincus, executive vice-president of programming and content for Topic Studios/FLM.
"We think audiences are going to love their oversharing, poignant, funny take on friendship, and the distinct way they have of telling it."
Topic Studios will produce alongside Covino and Marvin and shooting is scheduled to begin in August.
"We're so excited to be working with the team at Topic. They've been incredibly supportive and are passionate about the film," said Covino. "We couldn't ask for better creative partners. They also have money; which helps, because movies cost money."
Topic's slate includes Debra Granik's upcoming Munich International Film Festival selection Leave No Trace, which Bleecker Street will distribute on June 29 and is being released internationally through Sony; and the political documentary Dark Money, which PBS Distribution will release theatrically in July.
Among other films in development are: war correspondent drama On The Other Side starring Carey Mulligan; and Rodrigo Prieto's directorial debut Bastard, on which Martin Scorsese and Emma Tillinger Koskoff of Sikelia Productions serve as executive producers, and Jordan Horowitz and Annie Marter produce.
Topic is also behind the documentary XY Chelsea, about the former U.S. Army intelligence analyst and trans woman Chelsea Manning, which was acquired by Showtime.