Festival brass add Galas, Special Presentations, unveil Contemporary World Cinema, Primetime, Masters, Wavelengths.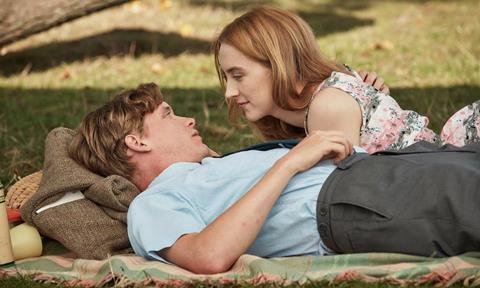 World premieres of Aaron Sorkin's directorial debut Molly's Game starring Jessica Chastain, and Dominic Cooke's Ian McEwan adaptation On Chesil Beach with Saoirse Ronan (pictured) are among 32 additional Special Presentations films to join the Toronto roster on Tuesday.
The Papillon remake with Charlie Hunnam and Rami Malek, Cannes hits The Florida Project by Sean Baker and In The Fade by Fatih Akin, as well as Feng Xiaogang's Youth also take their place in the Special Presentations line-up.
Top brass at the Toronto International Film Festival (TIFF) announced six additional Galas selections that include Bille August's 55 Steps and Paolo Virzi's The Leisure Seekers. Tuesday's announcement brings the programme's total to 48 world premieres, 10 international premieres, 19 North American premieres and 10 Canadian premieres.
On top of that, TIFF staff unveiled 48 titles in Contemporary World Cinema slate including 23 world premieres. The selection encompasses Argentinian filmmaker Diego Lerman's A Sort Of Family, South African Khalo Matabane's The Number, Iraqi Mohamed Jabarah Al-daradji's The Journey, and Australian actor Simon Baker's directorial debut, Breath.
Eleven films in Masters includes the world premiere of the Taviani brothers' 1980s-set love triangle Rainbow – A Private Affair, as well as Lucrecia Martel's previously announced period drama Zama, Michael Haneke's Happy End, Paul Schrader's First Reformed, and The Other Side Of Hope from Finland's 2017 Berlin Silver Bear winner Aki Kaurismäki.
Now in its third year, Primetime showcases important work in television and the current crop features The Wire showrunner David Simon's look at the New York porn industry in the 1970s in The Deuce, and the Season Two premiere of The Girlfriend Experience, a reimagining of Steven Soderbergh's 2009 film about a New York escort on which Soderbergh serves as executive director. Dark, Netflix's first German production, is a family saga with a supernatural twist.
Among the four programmes of experimental short films and videos, pairings and stand-alone features that comprise Wavelengths are Bruno Dumont's Jeannette, The Childhood Of Joan of Arc and Nelson Carlo de los Santos Arias' Cocote from the Dominican Republic.
The 42nd Toronto International Film Festival runs from September 7-17. Click here for further information.
GALAS
"We're thrilled to bring festival audiences some of the year's most exciting films in our Gala and Special Presentations line-up," TIFF artistic director Cameron Bailey said. "But beyond the sizzle of the premieres, this year's selections show filmmakers continuing to take chances and push boundaries, whether they're working in Hollywood or Hong Kong, Montreal or Munich."
55 Steps (Germany-Belgium), Bille August, WP
Chappaquiddick (USA), John Curran, WP
Hochelaga, Terre des Âmes (Canada), François Girard, WP
My Days Of Mercy (USA), Tali Shalom-Ezer, WP
The Leisure Seeker (Italy), Paolo Virzì, IP
Three Christs (USA), Jon Avnet, WP
SPECIAL PRESENTATIONS
The Captain (Der Hauptmann, Germany-France-Poland), Robert Schwentke, WP
The Conformist (China), Cai Shangjun, NAP
The Cured (Ireland-UK-France), David Freyne, WP
The Escape (UK), Dominic Savage, WP
The Florida Project (USA), Sean Baker, NAP
Foxtrot (Israel-Germany-France-Switzerland), Samuel Maoz, CP
I Love You, Daddy (USA), Louis C.K., WP
In the Fade (Aus Dem Nichts, Germany-France), Fatih Akin, NAP
Journey's End (UK), Saul Dibb, WP
The Killing Of A Sacred Deer (Ireland-UK), Yorgos Lanthimos, NAP
Kodachrome (Canada-USA), Mark Raso, WP
Lean On Pete (USA-UK), Andrew Haigh, CP
Loving Pablo Fernando León de Aranoa, Spain NAP
Michael Jackson's Thriller 3D John Landis, USA NAP
Preceded By
Making of Michael Jackson's Thriller Jerry Kramer, USA NAP
Manhunt (Hong Kong-China), John Woo, NAP
Mark Felt - The Man Who Brought Down The White House (USA), Peter Landesman, WP
Marrowbone (Spain), Sergio G. Sánchez, WP
Molly's Game (USA), Aaron Sorkin, WP
The Motive (El Autor, Spain), Manuel Martín Cuenca, WP
Number One (Numéro Une, France) Tonie Marshall, WP
On Chesil Beach (UK, pictured), Dominic Cooke, WP
Outside In (USA), Lynn Shelton, WP
Papillon (Serbia-Montenegro-Malta), Michael Noer, WP
Racer And The Jailbird (Belgium-France), Michaël R. Roskam, NAP
Radiance (Hikari, Japan-France), Naomi Kawase, NAP
Redoubtable (France), Michel Hazanavicius, NAP
Three Peaks (Drei Zinnen, Germany-Italy) Jan Zabeil, NAP
Unicorn Store (USA), Brie Larson, WP
Who We Are Now (USA), Matthew Newton, WP
You Disappear (Du Forsvinder, Denmark-Sweden) Peter Schønau Fog, IP
Youth (Fāng Huá, China) Feng Xiaogang, WP
CONTEMPORARY WORLD CINEMA
"Each film in Contemporary World Cinema offers a much-needed look at another part of the world through the eyes of a storyteller embedded in that culture," Bailey said. "Taken together, these four dozen films invite us all to expand and deepen our picture of the world."
A Ciambra (Italy-France-USA-Germany), Jonas Carpignano, IP
A Sort Of Family (Argentina-Brazil-France-Poland), Diego Lerman, WP
Alanis (Argentina), Anahí Berneri, WP
Ana, Mon Amour (Romania-Germany-France), Călin Peter Netzer, NAP
Angels Wear White (China-France), Vivian Qu, NAP
April's Daughter (Mexico), Michel Franco, NAP
Arrhythmia (Russia-Finland-Germany), Boris Khlebnikov, NAP
Beyond Words (Netherlands-Poland), Urszula Antoniak, WP
Birds Without Names (Japan), Kazuya Shiraishi, WP
Breath (Australia), Simon Baker, WP
Dark Is The Night (Philippines), Adolfo Alix Jr., WP
Directions (Bulgaria-Germany-Macedonia), Stephan Komandarev, NAP
Disappearance(Netherlands-Norway), Boudewijn Koole, IP
Euthanizer (Finland), Teemu Nikki, WP
Félicité (France-Senegal-Belgium-German-Lebanon), Alain Gomis, NAP
Good Favour (Ireland-Belgium-Denmark-Netherlands), Rebecca Daly, WP
Hannah (Italy-Belgium-France), Andrea Pallaoro NAP
Insyriated (Belgium-France-Lebanon), Philippe Van Leeuw, CP
Life And Nothing More (Spain-USA), Antonio Méndez Esparza, WP
Longing (Israel), Savi Gabizon, Israel NAP
Looking for Oum Kulthum (Germany-Austria-Italy-Lebanon-Qatar), Shirin Neshat, NAP
Marlina the Murderer in Four Acts (Indonesia-France-Malaysia-Thailand), Mouly Surya, NAP
Miami (Finland), Zaida Bergroth, IP
Motorrad (Brazil), Vicente Amorim, WP
Nina (Slovakia-Czech Republic), Juraj Lehotský, NAP
On Body and Soul (Hungary), Ildikó Enyedi, NAP
Samui Song (Thailand-Germany-Norway), Pen-ek Ratanaruang, NAP
Sergio & Sergei (Spain-Cuba), Ernesto Daranas Serrano, WP
The Big Bad Fox & Other Tales (France), Benjamin Renner, Patrick Imbert, NAP
The Insult (France-Lebanon), Ziad Doueiri, CP
The Journey (Iraq-UK-France-Qatar-Netherlands), Mohamed Jabarah Al-daradji, WP
The Lodgers (Ireland), Brian O'Malley, WP
The Number (South Africa), Khalo Matabane, WP
The Royal Hibiscus Hotel (Nigeria), Ishaya Bako, WP
The Summit (Argentina-Spain-France), Santiago Mitre, NAP
Tulipani, Love, Honour and a Bicycle (Netherlands-Italy-Canada), Mike van Diem, WP
Under The Tree (Iceland-Denmark-Poland-Germany), Hafsteinn Gunnar Sigurðsson, IP
Veronica (Spain), Paco Plaza, IP
Wajib (Palestine-France-Germany-Colombia/Norway-Qatar-UAE), Annemarie Jacir, NAP
Western (Germany-Bulgaria-Austria), Valeska Grisebach, NAP
Previously announced Canadian titles in the Contemporary World Cinema programme include Simon Lavoie's The Little Girl Who Was Too Fond Of Matches, Adam MacDonald's Pyewacket, Kyle Rideout's Public Schooled, Ingrid Veninger's Porcupine Lake, Mina Shum's Meditation Park, Robin Aubert's Les Affamés, Pat Mills' Don't Talk To Irene, and Tarique Qayumi's BLACK KITE.
MASTERS
"These are some of the greatest and most respected filmmakers working today, and we are excited to bring their latest films to TIFF audiences," Bailey said. "This year's Masters programme is a master class in creating bold, groundbreaking films that leave a mark on our cultural landscape."
The Day After (Geu-hu, South Korea), Hong Sangsoo, NAP
Faces Places (Visages Villages, France) Agnès Varda, JR, CP
First Reformed (USA), Paul Schrader, CP
Happy End (France-Austria-Germany), Michael Haneke, NAP
The House By The Sea (La Villa, France), Robert Guédiguian, NAP
Loveless (Nelyubov, Russia-France-Belgium-Germany), Andrey Zvyagintsev, CP
The Other Side of Hope (Toivon Tuolla Puolen, Finland-Germany) Aki Kaurismäki, CP
Our People Will Be Healed (Canada), Alanis Obomsawin, WP
*Previously announced with the Canadian feature line-up
Rainbow - A Private Affair (Una Questione Privata, Italy-France), Paolo Taviani, Vittorio Taviani, WP
The Third Murder (Sandome No Satsujin, Japan), Hirokazu Kore-eda, NAP
Zama (Argentina-Brazil-Spain-France-Netherlands-Mexico-Portugal-USA), Lucrecia Martel, NAP
PRIMETIME
"As the lines of length and venue for cinema are dissolving, I feel honoured to be presenting some of the most cinematic, episodic content that is out in the world today," Primetime programmer Michael Lerman said. "These shows not only represent great entertainment, but also the level of deep thought and research that can go into a long term storytelling project."
Previously announced series in the Canadian lineup include the CBC/Netflix original production Alias Grace, based on the award-winning novel by Margaret Atwood.
Dark (Germany), two episodes

Showrunners: Baran bo Odar, Jantje Friese
Director: Baran bo Odar, WP
The Deuce (USA), two episodes
Showrunners: David Simon, George Pelecanos Directors: Michelle MacLaren, Ernest Dickerson Episode 1, CP,
Episode 2, WP
The Girlfriend Experience (USA), Season 2, four episodes
Showrunners and directors: Amy Seimetz, Lodge Kerrigan, WP
Under Pressure (Brazil), two episodes
Showrunners: Andrucha Waddington, Jorge Furtado Directors: Andrucha Waddington, Mini Kerti IP
Previously announced series in the Canadian line-up:
Alias Grace (Canada-USA), two episodes
Showrunner: Sarah Polley

Director: Mary Harron,
WP
WAVELENGTHS
"This year's edition demonstrates an impressive diversity of forms, voices and subjects, which nevertheless collectively and individually offer rebukes to the grand declarative statements we are continuously confronted with today," Wavelengths programmer Andréa Picard said. "Many films in Wavelengths are focused on proximity, intimacy, testimony, bodies, agency and listening as a fundamental task in an increasingly noisy world. The ethnographic meets the performative, even the musical, as many of the films subversively tap into the surrealism of our times."
SHORT FILM PROGRAMMES
Wavelengths 1: Appetite For Destruction
As pessimistic prognoses flood in during our age of decline, dictatorships and devastation, this sweeping appetite for destruction also fuels rebellious — even mischievous — forms of resistance and necessary counter-investigation.
Onward Lossless Follows (USA), Michael Robinson
some cities (Canada), Francesco Gagliardi, Canada
The Watchmen (USA), Fern Silva
Wasteland No.1 - Ardent, Verdant (USA), Jodie Mack
Phantasiesätze (Fantasy Sentences, Germany-Denmark) Dane Komljen
Dislocation Blues (Ho-Chunk Nation-USA), Sky Hopinka
Wavelengths 2: Fluid Frontiers
A newly restored and astonishing short by film diarist Anne Charlotte Robertson launches this programme of portraits and homages, with links to notions of home and heritage.
Pixillation (USA), Anne Charlotte Robertson, (Restoration courtesy of Harvard Film Archive)
Ticino (Austria-Italy), Friedl vom Gröller
Brown And Clear (USA), Kevin Jerome Everson
Turtles Are Always Home (Sokun Al Sulhufat, Canada-Lebanon-Qatar), Rawane Nassif
Configuration In Black And White (Germany), Helga Fanderl
Fire (UK), Lucy Parker
From Source To Poem (Germany), Rosa Barba
Fluid Frontiers (USA-Canada), Ephraim Asili
Wavelengths 3: Figures In The Landscape
There is much to manoeuvre in the world. When quotidian objects seemingly conspire against and constrict our movement, inevitably slowing us down in an over-accelerated world, attendant shifts in meaning and interventions can propose unforeseen detours.
Mr. Yellow Sweatshirt (USA), Pacho Velez, Yoni Brook
Yeti (Poland), Wojciech Bąkowski
(100ft) (South Korea-USA), Minjung Kim
Heart Of A Mountain (Taiwan-Canada), Parastoo Anoushahpour, Ryan Ferko, Faraz Anoushahpour
Rose Gold (USA), Sara Cwynar
Division Movement To Vungtau (France), Benjamin Crotty, Bertrand Dezoteux
Flores (Portugal), Jorge Jácome
Wavelengths 4: As Above, So Below

Four exceedingly different films, each with its own documentary impulse, suggest rich interplay between metaphoric and physical horizon lines and amid shifting scales: of thread, of light and shadow, of environmental elements, of existential contemplation and of memory.
La Libertad (Colombia-France-USA), Laura Huertas Millán
Palmerston Blvd. (Canada), Dan Browne
below-above (Switzerland), André Lehmann
Aliens (Spain), Luis López Carrasco
PAIRINGS

Beyond The One (Al Di Là Dell'Uno, France-Italy-Germany) Anna Marziano, WP
Preceded by: Strangely Ordinary this Devotion (USA), Dani Leventhal, Sheilah Wilson, IP
PROTOTYPE Blake Williams, Canada NAP
Preceded by: Florence (Firenze, Finland) Erkki Kurenniemi, NAP
Ta Peau Si Lisse (A Skin So Soft, Canada-Switzerland) Denis Côté, NAP
Preceded by: Scaffold (Canada), Kazik Radwanski, NAP
FEATURES
Caniba (France), Véréna Paravel, Lucien Castaing-Taylor, NAP
Cocote (Dominican Republic), Nelson Carlo de los Santos Arias, NAP
Dragonfly Eyes (China-USA), Xu Bing, NAP
Good Luck (France-Germany), Ben Russell, NAP
Jeannette, the Childhood of Joan of Arc (France), Bruno Dumont, NAP
Le Fort Des Fous (France-Algeria/Switzerland-Germany-Greece-Qatar), Narimane Mari, NAP
Mrs. Fang (France-China-Germany), Wang Bing, NAP
Occidental (France), Neïl Beloufa, NAP
The Nothing Factory (A Fábrica De Nada, Portugal) Pedro Pinho, NAP
Previously announced Wavelengths titles at the Festival include Blake Williams's Prototype and Denis Côté's Ta Peau Si Lisse (A Skin So Soft).