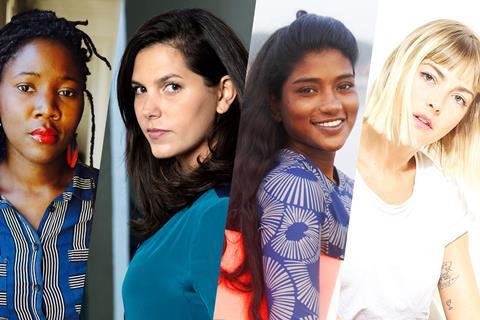 Paris-based company Totem Films has launched a new documentary label in a move that will see the company embark on its first in-house production with the adaptation of Franco-American writer and critic Iris Brey's hard-hitting work The Female Gaze.
The new label bannered Totem Docs will follow the same founding editorial line as its parent company, which has achieved sales success with breakout Cannes Directors Fortnight title And Then We Danced, Luxor and Land Of Ashes since its creation in late 2018.
"We want to pursue the work we started on fiction with documentaries that are a strong mirror of today's battles for new perspectives and representation," said Totem Films co-chiefs Bérénice Vincent, Agathe Valentin and Laure Parleani.
"We are looking for documentaries on the cutting edge that are also adapted to different kinds of release models," they added.
The new label will get its first outing at the upcoming Marché du Film online, running June 22-26, where it will present an inaugural four-title line-up.
Alongside the upcoming adaptation of The Female Gaze, the line-up includes Heather Kessinger's completed feature The Most Fearless, which follows 21-year-old Bangladeshi Nasima Akhter [pictured] on her quest to become a high-level competitive surfer against a backdrop of poverty and prejudice.
The other two projects, both in post-production, are Aude Pépin's A La Vie (working title), which follows militant-feminist midwife Chantal Birman as she does rounds in Paris suburbs, and Alice Diop's WE, which uses Paris' RER B suburban train line as way to explore the cultural diversity of French society.
"All these films are inspirational. They confront stereotypes and depict people we think should be our new heroes of today," said the Totem team.
First in-house production
The adaptation of The Female Gaze marks Totem's first foray into production and is a major development for the company.
The original work sparked controversy in France for the way it explores how women have been objectified on the big screen throughout the history of cinema and how this perspective can be shifted to a female gaze.
Brey will write and direct the adaptation, bringing together clips, archival material and testimony from contemporary filmmakers to create a new history of cinema through the female gaze.
She is a well-known and respected voice within the wider gender equality debate. Her other written works include Sex And The Series, which looked at perspectives offered by series such as Girls, Transparent and Fleabag and was adapted into a documentary series.
Brey has also been a major voice in the anti-sexual harassment movement in France, and came out strongly in favour of the Césars awards walk-out this year led by actress Adèle Haenel.
Totem co-chief Vincent met Brey when she co-founded Le Deuxième Regard in 2013, a collective group aimed at increasing gender equality in the French film business, which eventually became the powerful Collectif 50/50. "We have nurtured each other since then, questioning and trying to shake things up," said Vincent.
The Totem team added: "Iris' ideas don't point to censorship or condemnation of history or the past, but instead look to the future. The fact that a significant part of the French press forcefully dismissed Iris and this debate only helped convince us further that we should support it."
The in-house development and production of The Female Gaze will be undertaken under the banner of Totem Atelier, the company's subsidiary creative arm aimed at exploring new stories around gender norms and identity.
Fiction titles on Totem's Marché du Film Online slate include Cannes 2020 label title Gagarine and Compartment No. 6, the new film by Juho Kuosmanen, which is currently in post-production and follows his 2016 Un Certain Regard winner The Happiest Day In The Life Of Olli Mâki.