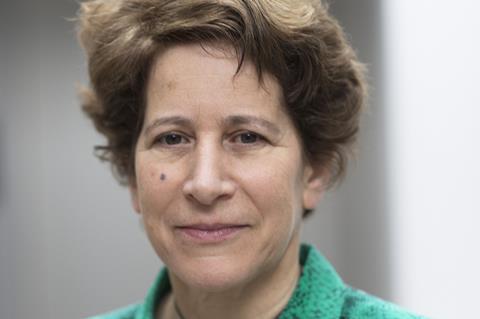 Tracey Josephs has joined London and LA-based production outfit The Ink Factory as head of production.
She was previously head of production at Film4, where she worked across films including Slumdog Millionaire; Twelve Years A Slave and Inbetweeners, The Movie.
Based in London, Josephs will create and produce theatrical films and scripted series, oversee physical production, and participate in strategic decision-making.
The Ink Factory, which produced The Night Manager, has also announced six more new hires.
They are: Amy Basil as marketing manager; Aaron Anderson as development producer; Jo Allan as storyworlds producer; John Rowe as script executive; Alexis Hood as story producer and Chris Patey as business affairs assistant.
Amy Basil was previously VP of marketing at MUBI. Aaron Anderson is a development executive who was most recently story producer on Sky Atlantic's Riviera. Jo Allan is a producer working across film, TV, VR and live performance. Jon Rowe was the script editor on BBC crime drama, Silent Witness. Alexis Hood was formerly script producer on Paul Abbott's No Offence for Channel 4. Chris Patey was formerly a legal assistant in the Warner Bros. International Television Production division.
Earlier this month The Ink Factory announced that is has secured more than $180 million in funding to ramp up its development and production capabilities.
Hotel Artemis is the first project financed through these new arrangements. The feature directed by Drew Pearce stars Jodie Foster, Jeff Goldblum, Sterling K. Brown, and Dave Bautista and will be released in Autumn 2018.
The TV adaptation of John le Carré's The Little Drummer Girl, starring Florence Pugh (Lady Macbeth) and directed by Park Chan-wook (The Handmaiden) will also be financed under this agreement.
Simon and Stephen Cornwell, co-founders of The Ink Factory, said: "The appointment of Tracey is key to driving continued growth of The Ink Factory following the closing of our recent financing. In addition, Aaron, Alexis and Jon will add to the already-strong bench in our development group, supporting our ability to work with our growing slate of material from le Carré and other world class creators. Jo will build out the expanded worlds of our stories beyond film and television. Chris will work on structuring and closing out the deals that underpin our creative work, and Amy will spearhead the process of introducing our stories to audiences around the world."
Tracey Josephs said:"Channel 4 has been a great organisation to work for and it has been a privilege to be at Film4 during such an extraordinarily creative period in British Independent cinema and collaborate with so many talented filmmakers as well as my inspiring colleagues at Film4.
"Joining The Ink Factory at this time is an amazing opportunity. What could be more exciting than Park Chan-wook directing upcoming le Carré series The Little Drummer Girl? I am looking forward to working on this and many other shows as well as joining The Ink Factory Management team where there will be opportunities to contribute to the future growth and development of the company."
The Ink Factory was founded in 2010 by John Le Carre's sons Stephen and Simon Cornwell.