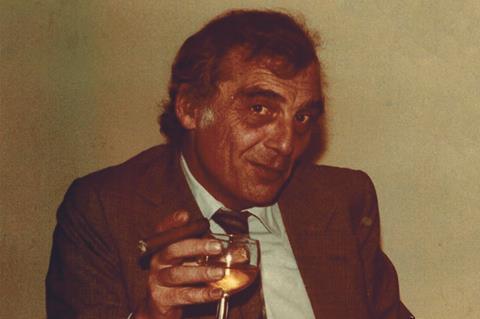 Tributes have poured in for Peter King, the groundbreaking former publisher of Screen International from 1975 to 1989, who died last week at the age of 90.
The Bentley-driving, cigar-smoking proprietor is credited with transforming film trade journalism, overseeing the publication of the first ever film trade dailies at the Cannes film festival in the late 1970s.
Journalists who worked with him spoke of his elegance, his business acumen and his love of good living.
"King was an immaculate man in every way," said Tina McFarling, BFI media advisor, corporate, partnerships and industry, who began her career as a junior box office reporter and obituary writer at Screen International. "Screen had that strong sense of 'family' that comes with an independent paper and the bonds that still exist today between the people that worked there from Peter's time are testament to that."
King bought the-then struggling trade paper CinemaTV Today from John Woolf in 1975, rebranding it as Screen International.
"[King] was lucky in his timing," said his friend Terry Ilott, a former Screen International editor. "He bought it just as billions of dollars flowed into the independent marketplace There was a period of phenomenal growth."
King allowed his editors to hire correspondents all over the world.
"What he liked to do was put people into jobs and let them get on with it," Ilott said. "He was tremendously hands-off. That was true on the advertising side and the editorial side. The people he liked to hire were spiky and young and in whom he could see some talent. One of the reasons he liked young people was that they would work cheap. He liked them spiky because he thought they would do more interesting things."
Among the journalists King brought on board Screen International was future producer and former Miramax executive Colin Vaines, who was 19 years old in 1977. Vaines was hired as a junior reporter and eventually became co-editor, alongside Adrian Hodges.
"I loved [King] because he had a wealth of film experience himself but he just had a good attitude about everything," Vaines said. "He was a bit of trailblazer, one of those slightly larger than life characters that I fear we don't have these days. He had a boyish enthusiasm that never left him."
When Vaines and Hodges recruited Alan Parker to draw a weekly cartoon for Screen International, King didn't intervene, even if Parker's cartoons viciously lampooned figures in the British film industry. "Another publisher might have had concerns," Vaines said.
The two Peters
King was educated at Marlborough College and at Oxford University, where he studied law. His father co-owned UK cinema circuit Shipham & King, Before buying Screen, King had worked as a high- ranking executive at both Paramount UK (as managing director, EMEA) and at EMI (managing director, cinema and leisure).
One of his most significant early hires was the flamboyant gossip columnist, the late Peter Noble, as its first editor.
"There was always a slight touch of the theatrical about Peter King," said producer Mike Downey, the German correspondent for Screen during the King era. "And Peter Noble used to be a music hall entertainer. The two Peters were joined at the hip by showbiz. I suspect Peter Noble's column, fabulous, notorious and crazy as it was, was the last vestige of music hall and showbiz, relayed in the new film business as it was changing in the 1980s."
Another key figure was King's advertising director, John Campbell, renowned for squeezing huge amounts of advertising from Cannon and others.
Campbell recalled King would sometimes sell ads himself and that he knew the industry inside out.
Indeed, King had been the first to spot the goldmine of Cannes. Colleagues recall an intense working environment during the festival. "We had very few people there and we were producing massive papers," Vaines remembered. "We used to bring in three people from Fleet Street to help get the paper done. These were days when the paper was done in hot metal. We used to have to take the copy down at 4.30pm to be set overnight by French printers who didn't speak English."
Former Brazilian correspondent Chris Pickard spoke admiringly of the long lunches hosted by King on the beach in Cannes. Journalists were always invited too. "No matter what level you were, you could go down and join him," Pickard said.
Others talk of the "family feel" of Screen International under King. When the sale to Canada's Thomson International went though, King gave bonuses to staff members. "I know he gave me 20 grand [£20,000]. He was alright in that respect," said Campbell. "Basically, he was a good guy all round. He had this self-image of himself as a benevolent dictator, which sometimes works."
After King sold Screen International he went on to buy Majesty magazine. "His name being Peter King, he thought it was great that he owned Majesty," Pickard said,
King is remembered as a bon viveur with a very robust constitution and a healthy appetite for Dover sole and Chablis or champagne. His favourite restaurant was the Braganza in Soho. "He really enjoyed a drink, although you would never know," Ilott noted. "I've sat though lunch with Peter and drank a lot. At the end of the lunch, I could hardly walk. But Peter, you would never know he had had a drop. It was extraordinary."
Peter King's funeral is being held today (Monday October 29).