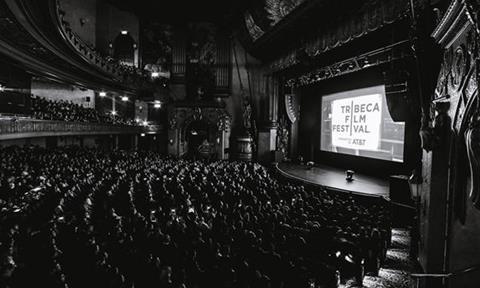 Tribeca Film Institute (TFI) announced on Friday (April 13) the launch of its first Works In Progress programme, which aims to connect traditionally underrepresented filmmakers with industry professionals.
On April 21 at Cinepolis Chelsea, six selected fiction and documentary feature projects will showcase up to 20 minutes of excerpts from their works, most of which are in the post-production phase.
Fiction projects selected for the programme are: Crystal Swan directed by Darya Zhuk and co-written by Zhuk and Helga Landauer Olshvang; Jezebel written and directed by Numa Perrier; and Stranger's Arms directed by Emma Westenberg and written by Valerie Kamen.
Documentary projects include Ben Guez and Aleksandra Kulak's Quicksilver Chronicles; Jeff Reichert and Farihah Zaman's Watermelon Thump Queen, which participated in the 2017 TFI/A&E StoryLab; and Mariam Ghani's What We Left Unfinished.
Both Tribeca Film Festival attendees and TFI Network industry members will be able to attend the programme's launch.
"This is a next logical step to building out our three-day TFI Network for diverse voices," TFI executive director Amy Hobby said. "This is an opportunity for non-profit granters, funders, post facilities, sales agents, distributors, and anyone tracking new talent to discover exciting new work."
The Works In Progress programme participants will also present their works in TFI Network, where filmmakers and industry professionals connect.
"We are proud to say the six projects selected are either directed or co-directed by women, tackling current themes of immigration, race, gender and class issues in an innovative say," senior director of artist programmes Molly O'Keefe said. "It is important that these films get to the finish line, each a wide audience and we believe this programme will get them there."
The Tribeca Film Festival runs from April 18-29.