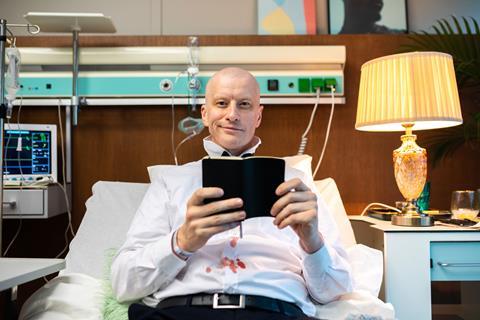 TrustNordisk has boarded international sales for Petter Næss' Nothing To Laugh About, now shooting in Oslo, Norway.
Norwegian director Næss is best known for directing Elling (2001); he has recently worked more in TV and theatre.
The new film is about a 40-year-old stand-up comedian who has the worst day ever: he loses his job and his girlfriend and gets a cancer diagnosis. He learns to cope with his illness and somehow finds laughter again. The cast is led by Odd Magnus Williamsom, who also wrote the script.
Gudny Hummelvoll and Eleonore Anselme produce for Hummelfilm alongside Rikke Ennis for REInvent Studios in co-production with AIHL Films; with support from the Norwegian Film Institute, The Lithuanian Filmfund and MEDIA.
SF Studios has the Nordic distribution rights.
Silje Nikoline Glimsdal, Sales & Project Manager at TrustNordisk, told Screen: "It's our true pleasure to be able to work with Petter Næss again on this heartfelt dramedy. It's one of these rare stories you come across that really leaves an impression. The reason is quite simple; it is a universally recognizable plot and employs fear, hopelessness, love and longing.
"It is a reflective and philosophical story of our present and everything around us that we take for granted. Nothing To Laugh About reminds us to embrace life, take control and not least laugh even in the darkest hour."
Næss added that the film "combines the ability to create humor in the most serious of situations, with the desire to tell an important story about appreciating life while being stuck in the middle of it…A comedy about death this vital and funny is hard to find."