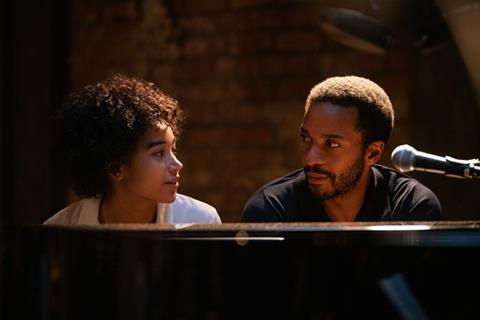 The first two episodes of the Paris-set The Eddy, directed by Damien Chazelle for Netflix, UK romantic comedy Trigonometry, directed by Athina Rachel Tsangari for the BBC and HBO, and Stateless, co-created by and starring Cate Blanchett for the Australian Broadcasting Corporation, will all world premiere at the Berlin Film Festival's 2020 Berlinale Series strand.
Formerly known as Drama Series Days, Berlinale Series is open to the public and runs from February 24-16. A further six international series are also being showcased. All are world premieres apart from Clara Mendes' Danish drama Sex for TV2 Denmark.
Scroll down for full list of series
The Eddy is written by the UK's Jack Thorne and is about the bandleader of a Parisian jazz club and the relationship with his teenage daughter who arrives from New York. Divines director Houda Benyamina, Morocco's Laila Marrakchi and the US' Alan Poul all direct further episodes.
The cast is headed by a raft of international film talent: André Holland, who broke out in Barry Jenkins' Moonlight, Cold War's Joanna Kulig, Amandla Stenberg, star of The Hunger Games and The Hate U Give, and A Prophet's Tahar Rahim.
Trigonometry is a comedy-drama produced by Tessa Ross and Juliette Howell's House Productions and is about a love triangle among a group of friends living in London. It is the first move from Greek director Tsangari into television following the award-winning films Attenberg in 2010 and Chevalier in 2015.
Meanwhile, Blanchett has co-created Stateless, about Australia's controversial onshore immigration detention regime, with Elise McCredie and Tony Ayres. It is directed by The Dressmaker's Emma Freeman and Jocelyn Moorhouse. Blanchett also features in the ensemble cast along with Dominic West, Yvonne Strahovski and Jai Courtney.
Co-production and pitching sessions
Additionally, the Berlinale Series Market & Conference for accredited EFM professionals will incorporate market screenings of around 30 curated TV series, and a pitching event showcasing 10 projects. Five projects and producers from Chile, the EFM's country in focus for 2020, will also be presented.
The conference programme will feature panels and will be held in collaboration with regional film body and fund Film-und Medienstiftung NRW. It is taking place from February 24-26 at the Zoo Palast.
Berlinale Series Market and Conference is a joint initiative of the European Film Market, the Berlinale Co-Production Market and Berlinale Talents.
Berlinale Series (all synopsis provided by the Berlinale)
Happily Married (C'est Comme Ça Que Je T'aime) (Can)
Creator: François Létourneau
Showrunner: Joanne Forgues
Director: Jean-François Rivard
Cast: François Létourneau, Patrice Robitaille, Marylin Castonguay, Karine Gonthier-Hydman, Sophie Desmarais
Broadcaster: Radio-Canada Télé, Tou.Tv Extra
Episodes 1 and 2 of 10, in total 86'
Huguette and Gaétan, Serge and Micheline send their kids off for three weeks of camp. Alone with their partners, things quickly turn uncomfortable and the facades get huge cracks. Who slept with whom, who is on whose conscience? Marriage, Suburbia, hell in Quebec 1974.
Dispatches From Elsewhere (US)
Creator: Jason Segel
Directors: Jason Segel (Ep. 1), Wendey Stanzler (Ep. 2)
Cast; Jason Segel, Eve Lindley, Sally Field, André Benjamin, Richard E. Grant
Broadcaster: AMC
Episodes 1 and 2 of 10, in total 120'
An enigmatic institute promises the chosen few an escape from everyday life into a world full of beauty and magic. But is this a game, an alternative reality or a conspiracy? And what are Peter, Simone, Janice and Fredwynne risking?
The Eddy (Fr)
Creator: Jack Thorne
Directors: Damien Chazelle (Ep. 1-2), Houda Benyamina (Ep. 3-4), Laila Marrakchi (Ep. 5-6), Alan Poul (Ep. 7-8)
Cast: André Holland, Joanna Kulig, Amandla Stenberg, Tahar Rahim, Leila Bekhti, Adil Dehbi, Benjamin Biolay
Broadcaster: Netflix
Episodes 1 and 2 of 8, in total 136
Bandleader Elliot is improvising his way through a complex score of problems: his Parisian jazz club 'The Eddy' isn't doing too well. Ruthless debt collectors are breathing down his neck. And then his teenage daughter Julie arrives from New York.
Freud (Aust-Ger-Cze Rep)
Director: Marvin Kren
Cast: Robert Finster, Ella Rumpf, Georg Friedrich, Christoph Krutzler, Brigitte Kren, Anja Kling, Philipp Hochmair, Noah Saavedra
Broadcaster: ORF, Netflix
Episodes 1-3 of 8, in total 167'
Vienna, 1886: restless, high on cocaine and striving for recognition, young Sigmund Freud embarks on a nerve-wracking, hypnotic trip into the depths of the human soul with a mysterious medium and a traumatised policeman.
Mystery Road 2 (Aus)
Creator: Ivan Sen
Directors: Warwick Thornton, Wayne Blair
Cast: Aaron Pedersen, Jada Alberts, Sofia Helin, Callan Mulvey
Broadcaster: Australian Broadcasting Corporation
Episode 1 and 2 of 6, in total 110'
A headless corpse is found floating by the shore in a remote outback town. As if this weren't mysterious enough, Detective Swan and his colleague Fran have to contend with protests against the excavation of an Indigenous site. And then another body turns up.
Sex (Den) International premiere
Creator: Clara Mendes
Director: Amalie Næsby Fick
Cast: Asta Kamma August, Jonathan Bergholdt Jørgensen, Nina Terese Rask, Sara Fanta Traore
Broadcaster: TV 2 Denmark
Complete short-form series, 6 episodes, in total 77'
At the call centre, Cathrine gives advice on sex and love, but is herself at a loss. After a kiss, she wants more from her colleague Selma. Her boyfriend Simon feels that what's little is actually plenty. But what if that's not enough?
Stateless (Aus)
Creators: Cate Blanchett, Elise McCredie, Tony Ayres
Directors: Emma Freeman (Ep. 1-3), Jocelyn Moorhouse (Ep. 4-6)
Cast: Yvonne Strahovski, Jai Courtney, Asher Keddie, Fayssal Bazzi, Dominic West, Cate Blanchett
Broadcaster: Australian Broadcasting Corporation
Episode 1 and 2 of 6, in total 107'
Escape, disappear, start over. Behind barbed wire in the Australian desert, the world comes together in a dramatic way for four very different people. Is home a place? Or a trauma? What if you're not even in the position to dream about it?
Trigonometry (UK)
Creators: Duncan Macmillan, Effie Woods
Directors: Athina Rachel Tsangari (Ep. 1-5), Stella Corradi (Ep. 6-8)
Cast: Ariane Labed, Thalissa Teixeira, Gary Carr
Broadcasters: BBC2, HBO Max (USA)
Episodes 1-5 of 8, in total 220'
London, the present: Gemma is a chef, Kieran a paramedic and Ray, who moves in with the young couple, is at a loss. They fall in love, each with the other and all together. Can this possibly work out? Or might it actually be the best thing that could ever happen to them?