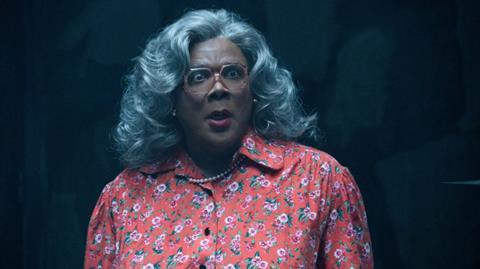 OCTOBER 23 UPDATE: Tyler Perry's Boo 2! A Madea Halloween opened top on a confirmed $21.2m in 2,388 theatres, ruling the session as it did this time last year when Boo! A Madea Halloween opened top on $28.5m.
Geostorm, a global warming catastrophe tentpole directed by Dean Devlin and starring Gerard Butler, crashed and burned on a dismal $13.7m in second place on 3,246 venues. The film reportedly cost $120m to produced excluding marketing costs.
Sony's $38m firefighter drama Only The Brave featuring a cast led by Josh Brolin, Miles Teller and Jennifer Connelly arrived in fifth place on a so-so $6m in 2,577, while Universal-Working Title's $35m Michael Fassbender thriller The Snowman adapted from the Jo Nesbo novel flopped in eighth place on $3.4m in 1,812.
Alcon Entertainment's Blade Runner 2049 ranks fourth in its third weekend on $74m through Warner Bros and stands at $194m worldwide including markets outside the US where Sony handles distributuion. At a $150m price tag, the film is now relying on strong international holdovers and in particular a big debut in China to help it break even.
In its second weekend Jackie Chan action drama The Foreigner fell 55.9% and three slots to number six, grossing a further $5.8m for $23.2m through STX. The US-China co-production reportedly cost $35m to produce excluding marketing spend.
Same Kind Of Different As Me arrived in number 12 on $2.6m through Pure Flix in 1,362 venues. In limited release, A24 opened Cannes premiere The Killing Of A Sacred Deer at number 28 on $114,585 in four for an excellent $28,646 average.
Roadside Attractions opened Amazon Studios' Wonderstruck by Todd Haynes at number 37 on $65,882 in four for a $16,471 average. Abramorama opened the documentary Jane, about pioneering primatologist Jane Goodall, at number 42 on $58,348 from three for an $19,449 average.
Robin Campillo's Cannes selection BPM – France's foreign language Oscar hope for the season ahead – arrived at number 69 through The Orchard on $8,566 in two venues.
Box office for the top 12 amounted to $81.8m, down 12.4% on last weekend, and trailing by 28.1% the comparable session in 2016, when Boo! A Madea Halloween opened top on $28.5m and Jack Reacher: Never Go Back debuted in second place on $22.9m.
This week's wide releases are: Saw horror spin-off Jigsaw through Lionsgate; Universal's drama Thank You for Your Service; and George Clooney's Suburbicon via Paramount.
Confirmed top 10 North America October 20-22, 2017
Film (Dist) / Conf wkd gross / Conf total to date
1 (-) Tyler Perry's Boo 2! A Madea Halloween (Lionsgate) Lionsgate International $21.2m –
2 (-) Geostorm (Warner Bros) Warner Bros Pictures International $13.7m –
3 (1) Happy Death Day (Universal) Universal Pictures International $9.4m $40.7m
4 (2) Blade Runner 2049 (Warner Bros) Sony Pictures Releasing International $7.4m $74.2m
5 (-) Only The Brave (Sony) Sony Pictures Releasing International $6m –
6 (3) The Foreigner (STX) STX International $5.8m $23.2m
7 (4) It (Warner Bros) Warner Bros Pictures International $3.5m $320.2m
8 (-) The Snowman (Universal) Universal Pictures International $3.4m –

9 (6) American Made (Universal) Universal Pictures International $3.1m $45.5m
10 (7) Kingsman: The Golden Circle (Fox) Fox International $3m $94.6m