UIP and Paramount issue joint statement calling Jacobson's death "a tragic and heartfelt loss".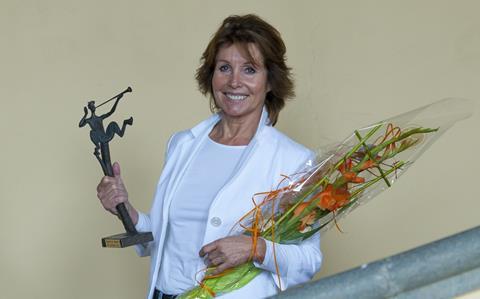 Liv Jacobsen, general manager of UIP (United International Pictures) Norway, has died after after suffering a stroke on Sunday night [Sept 8]. She was 66.
Jacobsen attended the Norwegian International Festival in Haugesund last month, where mayor Petter Steen Jr awarded her the Playing Faun, the city's honorary prize, for many years of support of the festival.
"We are just one of many in the industry that are shocked and saddened by the news," said Guttorm Petterson, CEO of SF Norge and the Norwegian Distributors Association. "Liv has meant a lot to the film business, both as head of UIP and as a member of our associatio."
Jacobsen started as head of publicity at CIC, which in 1982 changed names to UIP; between 1986-1988 she ran her own public relations agency, before returning as general manager. Between 2006-2012 she was also head of UIP Sweden.
Her marketing efforts are still talked about. For an Agent 007-James Bond premiere in Oslo she mobilized tanks to run down the Karl Johan main street, and for the Haugesund launch of US director John McTiernan's The Hunt for Red October, the Royal Norwegian Navy provided submarines.
A joint statement from Duncan Clark, president of international distribution at UPI, and Paramount Pictures president Anthony Marcoly said: "Liv's death is a tragic and heartfelt loss for us all.
"Having been with UIP at its foundation over 30 years ago, Liv was known to so many in our business both at home and far beyond the shores of her native Norway.
"She played a major role in shaping our company in the Nordics - we have lost an outstanding figure who leaves a lasting footprint on our industry."
UIP is a joint venture of Paramount Pictures and Universal Studios to distribute some of the two studios' films theatrically outside the US and Canada.