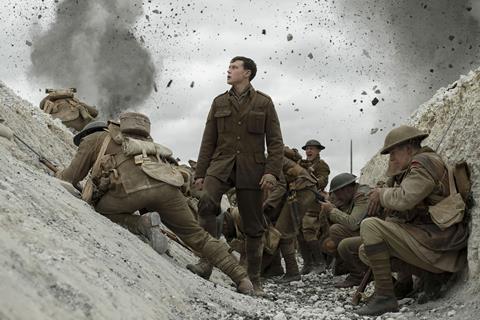 eOne's 1917, directed by Sam Mendes, and Universal's Seberg, starring Kristen Stewart, are among the new openers at the UK box office this weekend.
First World War thriller 1917 arrives on a wave of critical acclaim, which includes nine Bafta nominations and Golden Globe wins for best drama film and best director. It will be distributed in the UK by eOne in 686 cinemas.
Told in what appears to be one continuous shot, the film primarily centres on two young British soldiers on a mission to deliver a message deep in enemy territory. Rising stars George MacKay and Dean-Charles Chapman play the two soldiers alongside a starry supporting cast that includes Mark Strong, Andrew Scott, Richard Madden, Colin Firth, and Benedict Cumberbatch.
The film is up to $2.5m in the US following a limited release on December 25.
Mendes' previous two films were James Bond juggernauts Skyfall (2012) and Spectre (2015), which grossed £103m and £95.2m respectively in the UK alone. This ranks them as the second and third top-earning films of all time in the UK, behind Star Wars: The Force Awakens (2015), which took £123.2m.
Mendes' previous war film, Jarhead, took £5.43m following its January 2006 release while his debut feature, American Beauty, grossed £21.4m in January 2000.
Other recent world war films of note include Steven Spielberg's War Horse, which grossed £18.7m in January 2012, and Christopher Nolan's Dunkirk, which took a staggering £56.8m following its release in July 2017.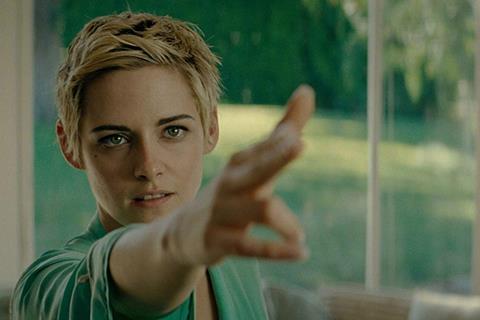 Also out this weekend is Seberg, starring Kristen Stewart as French New Wave icon Jean Seberg, which Universal Pictures will release into 128 sites.
The film, which debuted at Venice before going on to screen at Toronto, is set in the late 1960s when the Breathless actress was targeted by the FBI because of her involvement with civil rights activist Hakim Jamal.
Following the blockbuster Twilight franchise, Stewart's choices have skewed more toward independent cinema, which has been reflected in her box office takings.
She starred alongside Juliette Binoche in Olivier Assayas' Clouds of Sils Maria, which grossed £218,000 in May 2015; starred in Assayas' chilling drama Personal Shopper, which took £278,000 in March 2017; and was co-lead alongside Chloë Sevigny in Craig William Macneill's crime biopic Lizzie , which made £51,500 following its release in December 2018.
She moved back into big budget territory last year with Charlie's Angels but the action movie has disappointed by taking just £1.14m at the UK box office since its release in November.
Seberg marks the second feature of Australian theatre and film director Benedict Andrews. His debut feature, Una, starred Rooney Mara and Ben Mendelsohn but took just £14,227 when it was released in September 2017.
Other titles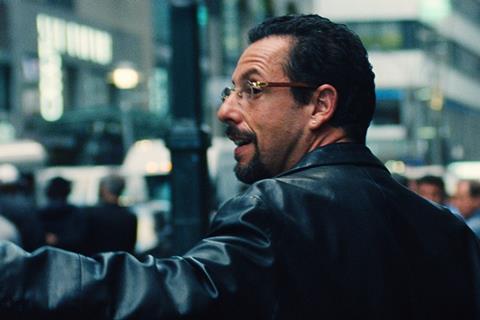 Also released this weekend is crime drama Uncut Gems, starring Adam Sandler as a New York City jeweller with a gambling addiction. However, box office figures will not be made available as it is a Netflix release. Altitude has booked the film into 53 sites on behalf of the streaming giant.
The film is directed by Josh and Benny Safdie, whose previous feature, Good Time, starred Robert Pattinson but took just £71,700 in the UK in November 2017.
Sandler's recent output has been through Netflix but, prior to his deal with the streamer, he starred in action comedy Pixels, which took £8.44m in August 2015. His previous moves away from broad comedy include Spanglish, which took £542,000 in February 2005, and Punch-Drunk Love, which grossed £527,000 in February 2003.
Other releases include a 4K restoration of Alejandro Jodorowsky's 1970 acid Western El Topo, handled by Arrow Films; British indie feature The Runaways, directed by Richard Heap and starring Molly Windsor and Mark Addy, released by Slackjaw; and Lucie Borleteau's French crime drama Lullaby, which is handled by Studiocanal.
Indian releases include acid attack survivor drama Chhapaak, a Fox film now set to be distributed by Disney, and Bollywood action drama Tanhaji: The Unsung Warrior, handled by Cinestaan AA Distributors.
In addition, Trafalgar Releasing will handle the live event cinema screening of Wozzek – Met Opera 2020 on Saturday, January 11.
Holdovers
The new openers will continue to face competition from a variety of holdovers this weekend. These include Star Wars: The Rise Of Skywalker, which has passed £50m and is aiming for its fourth week at the top of the UK box office.
Other titles that are still proving a draw include Jumanji: The Next Level, which looks set to top £30m on its fifth weekend, Little Women, which may pass £10m in its third outing, and The Gentlemen, which topped £3m on its release last week.