This weekend's UK box office sees Disney's Aladdin open against Universal's family animation sequel The Secret Life Of Pets 2 and Paramount's Elton John biopic Rocketman.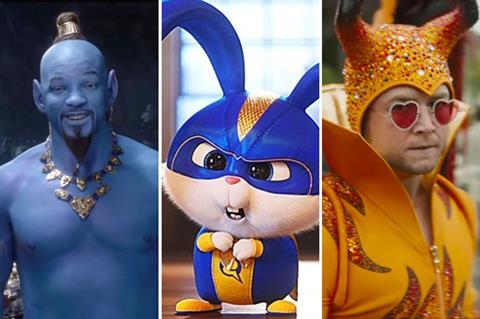 Both Aladdin and Rocketman entered UK cinemas on Wednesday (May 22) for two days of previews prior to their opening weekend, while Pets opens today (May 24). The UK has a bank holiday on Monday (May 27), meaning the full figures will be reported on Tuesday (May 28), including Fri-Sun grosses and the extra three days.
Aladdin is the latest live-action remake of a beloved Disney property to come from the studio in recent years. Beauty And The Beast remains the top performer, grossing a hefty £72.4m to place it 10th on the all-time UK box office chart.
Further recent examples include The Jungle Book (£46.2m) and Dumbo (still in cinemas but on £24.9m to date). The studio also has The Lion King arriving on July 19 this year.
Aladdin will compete for the family audience with Universal's animation The Secret Life Of Pets 2. The original film took £36.6m in the UK and opened with a hefty £9.6m, though that figure included £3.6m in previews.
Chris Renaud returns to direct the sequel to the story of a group of pet friends and their secret lives after their owners leave each day. The film is an Illumination Entertainment production, the studio also produces the Despicable Me and Minions films.
Both the Disney and Universal titles will bolster their grosses on Saturday and Sunday, thoughy family audiences may be deterred if the weather turns out to be pleasant (the forecast is currently middling).
Paramount's Rocketman will look to monopolise the adult audience this weekend. The film marginally outperformed Aladdin on its Wednesday previews, though the Disney title will likely make up that ground over the weekend.
The film will inevitably be compared with the release of 20th Century Fox's Queen story Bohemian Rhapsody, which took a hefty £54.9m after being released in October last year and sticking around in UK cinemas for more than 20 weeks.
Rocketman director Dexter Fletcher also directed a portion of Bohemian Rhapsody after original director Brian Singer left the project following misconduct allegations. Fletcher described his work on the film as a "boot camp" to prepare himself for his Elton John biopic.
Bohemian Rhapsody's success in the UK was buoyed by the enduring popularity of Queen's music, and Elton John certainly has a comparable number of classic tunes in his arsenal.
Fletcher and star Taron Egerton have promised a "more grown up" take on its subject - the famously flamboyant John and his partying lifestyle – than Bohemian Rhapsody. What could hamper its takings, however, is the 15 certificate awarded by the British Board of Film Classification, which means no one under that age can see the movie. Bohemian Rhapsody carried a 12A, meaning anyone could see the film as long as they were accompanied by a someone over the age of 18, thus opening it up to the entirety of the family market.
Rocketman was a hit at the recent Cannes Film Festival, where it premiered Out of Competition, with John jetting in for a red carpet attendance. Screen's review from the festival described it as a "razzle-dazzle biopic".
Also this weekend, Entertainment One is opening Olivia Wilde's directorial debut Booksmart, starring Kaitlyn Dever and Beanie Feldstein. It is a comedy about two academic superstars who try to cram four years' worth of partying into one night. The UK release is day-and-date with the US.
Dogwoof is releasing XY Chelsea, Tim Travers Hawkins' feature documentary about US army whistleblower Chelsea Manning, who was recently sent back to prison after refusing to testify before an inquiry into Wikileaks. The project was backed by the BFI and produced by Pulse Films, and premiered at Tribeca earlier this year.
Modern Films is also releasing a documentary this weekend, Julien Faraut's John McEnroe: In The Realm Of Perfection, an artistic look at the final of the 1984 French Open between John McEnroe and Ivan Lendl at a time when McEnroe was the world's top-ranked player. The film premiered at the Berlinale in 2018.
Key holdovers include Warner Bros' Pokemon Detective Pikachu, which narrowly edged out Lionsgate's threequel John Wick: Chapter 3 – Parabellum last weekend.