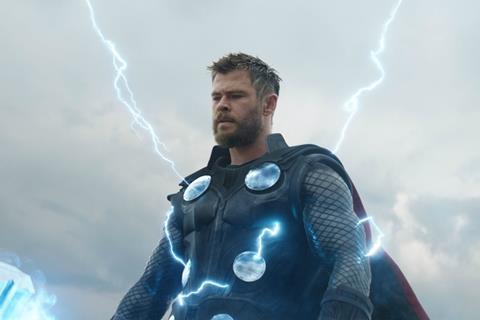 Last week's remarkable opening for Disney's Avengers: Endgame means even if the film suffers a relatively standard drop this weekend (50-60%), it will still dominate the chart for a second week.
Endgame kicked off with a three-day £31.4m, far ahead of the previous benchmark of £24.3m held by Star Wars: The Force Awakens. After midweeks, the film was up to a huge £55m after just eight days.
The Marvel title is expected to become one of the highest-grossing films in UK box office history.
Its predecessor, Avengers: Infinity War, sits 10th in that chart with the £70.8m it grossed in 2018. That film took £10.2m in its second weekend and sat on £51.9m at that point.
In further comparison, The Force Awakens also scored a £10.2m second weekend and was up to a goliath £72.1m after 12 days on release. That film remains the highest -grossing release in UK history with £123.2m.
James Bond film Skyfall is the second highest-grossing (£103.2m) and was on £53.4m after its second weekend (10 days on release). Fellow Bond film Spectre, the third highest-grossing (£95.2m), was on £64m after two weekends, though had been on release for 15 days.
Endgame could surpass all of those titles.
Poor weather in the UK this weekend will help, and then the UK bank holiday on Monday (May 6) will provide another boost to the film's grosses. By the time UK box office is reported on Tuesday (May 7), Endgame is expected to have surpassed the lifetime gross of Infinity War (£70.8m), pushing it into the all-time top 10.
New openers
There are several new openers going wide this weekend, including Lionsgate's comedy Long Shot, starring Seth Rogen and Charlize Theron in the story of a journalist who becomes speechwriter to a woman who was once his childhood crush and is now running for the US Presidency. Director Jonathan Levine's films have typically grossed around £1m-£2m in the UK to date. His latest, Snatched, took £1.2m via Fox International in 2017.
Out this weekend via 20th Century Fox is Tolkien, the biopic of the famed Lord Of The Rings author starring Nicholas Hoult and Lilly Collins. The film was recently disowned by the Tolkien family estate, though the studio and filmmakers have defended the project. Reviews this week have been middling.
Warner Bros is releasing The Curse Of La Llorona, Michael Chaves' US horror which is sitting second at the US box office behind Avengers. The film has taken $42m (£32.2m) to date stateside and $104m (£80m) across the globe.
Entertainment One is releasing A Dog's Journey, Gail Mancuso's family-friendly feature. Josh Gad is among the voice cast of the film, which is a sequel to A Dog's Purpose – that film grossed £3.2m via eOne in 2017.
In the arthouse space, Picturehouse Entertainment is opening Benedikt Erlingsson's Woman At War. The Icelandic film about a woman who becomes an environmental activist premiered in Cannes' Critic's Week programme last year and dominated this year's Edda Awards (Iceland's primary film awards) with 10 prizes.
Curzon is releasing Vox Lux, Brady Corbet's unconventional drama starring Natalie Portman and Raffey Cassidy as the same woman in two stages of her life – Cassidy plays her as a young woman who survives a school shooting, Portman plays her as an adult, when she has achieved global recognition as a pop star. The film premiered at Venice last year.
This week also sees the latest Sky Cinema release, Extremely Wicked, Shockingly Evil And Vile, starring Zac Efron as serial killer Ted Bundy. As usual, the film will go day-and-date with UK cinemas and Sky TV, meaning it won't play in multiplexes or the Picturehouse chain.