With the weather poised to once again be hot and sunny and the football World Cup moving into the knockout stages, UK distributors face a challenge on two fronts this weekend.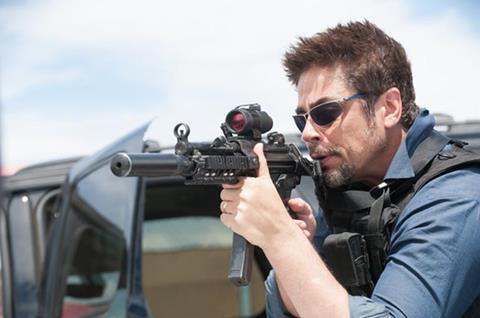 New openers are relatively sparse, and Universal's Jurassic World: Fallen Kingdom could regain its weekend box office crown from Warner Bros' heist comedy Ocean's 8. The former dropped 55% last weekend with £3.2m, while the latter opened with a £2.3m Fri-Sun period (boosted by four days of previews to a total of £4.3m). If both titles see a similar drop, Jurassic World would move back to number one.
The most significant new contender this weekend is likely to be Lionsgate's sequel Sicario 2: Soldado, which is set to roll out into 537 cinemas today. The action-packed tale of conflict between drug cartels and the US government on the Mexico-US border is garnering strong reviews and will be hoping to make a splash with audiences on its openinig night (Friday June 29) as it is the first football-free night since the World Cup kicked off on June 14.
The original Sicario, which was directed by Blade Runner 2049 filmmaker Denis Villeneuve, landed with a £1.6m opening in the UK (also via Lionsgate) and became a success, ending on £5m. Lionsgate is hoping the sequel will eclipse the original thanks to good buzz. Its opening day will be key if it is to challenge Jurassic World.
Also opening this weekend will be Disney's pug comedy Patrick, which is rolling out into more than 500 screens with a family audience in its crosshairs. With fellow family titles Sherlock Gnomes and Show Dogs now having been on release for seven and five weeks respectively, there is room for a new child-friendly title.
Warner Bros' US comedy Tag is also set for a wide release this weekend, with the studio hoping a teen and adult audience will come out for an ensemble cast led by Edd Helms, Hannibal Buress, John Hamm and Jeremy Renner. They star as a group of friends who have been playing the same game of tag for 30 years. The film opened with $14.9m in the US, meaning an on-par UK result would be £1.5m. But that's a total that will be tough to achieve with the forecasted warm weather.
STXinternational, still new on the UK distribution block, is hoping to follow the success of its Amy Schumer comedy I Feel Pretty (£5.4m in the UK) with Adrift. Directed by Baltasar Kormakur, the survival drama stars Shailene Woodley and Sam Claflin as a couple who get stranded while sailing in the Pacific Ocean. Kormakur screened the film for the Iceland football team this week ahead of their crunch tie with Croatia, (Unfortunatley it did not help the team avoid defeat.)
Vertigo has Isabel Coixet's English-language The Bookshop, starring Emily Mortimer and Bill Nighy, opening this weekend. The film premiered at the Valladolid Film Festival in Spain in October 2017 before playing at the Berlinale and the Dublin Film Festival. It won three Spanish Goya awards including best film in 2018.
Sony Pictures is putting out Debra Granik's Leave No Trace, starring Ben Foster. The well-reviewed drama premiered at Sundance this year and played a host of North American festivals before having a berth in Cannes' Directors' Fortnight sidebar.
Curzon Artificial Eye is re-releasing Agnes Varda's 1985 romantic drama Vagabond, released off the back of the veteran Belgian director's first Oscar nomination earlier this year for documentary Faces Places.
Eve Gabareau's fledglingt Modern Films is putting out documentary Ryuichi Sakamoto: Coda, about the titular Japanese composer. The company's previous releases include documentaries The Rape Of Recy Taylor, about the aftermath of a gang rape in Alabama in 1944, and Boom For Real, about the artist Jean-Michel Basquiat.
Arrow Films is releasing US fantasy sci-fi The Endless, which premiered at Tribeca in 2017.
Key holdovers this week include Entertainment Film Distributors' Hereditary, which is building nicely with £3.6m after last week, and Lionsgate pair The Happy Prince (£317,627) and documentary McQueen (£463,000).