FrightFest panel included actor Andy Nyman, director Simon Rumley and Arrow Films' Mike Hewitt.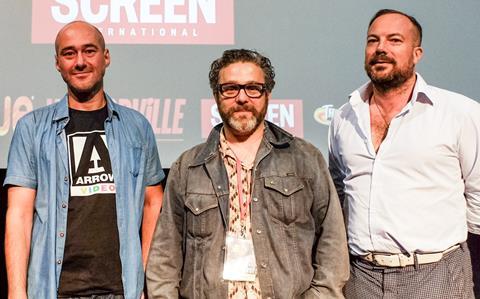 The UK genre scene has experienced a "mushroom cloud of independent filmmaking" in the past decade but getting these films in front of audiences is proving an ever-increasing challenge, according to a panel chaired by Screen at Horror Channel FrightFest.
"In the UK, it's become very hard to release smaller independent films in the traditional theatrical market without having a star or a specific in-built audience," said Mike Hewitt, brand marketing and business development manager at distributor Arrow Films.
"There's been a mushroom cloud of independent filmmaking and genre festivals like FrightFest can show these to their audience, who come and pay to see these films. But the challenge is then to get audiences to pay to see it elsewhere, either by buying the DVD, renting it digitally, or the hardest of all in cinemas."
British director Simon Rumley made horror The Living And The Dead in the UK in 2006 but has since made films Red, White and Blue, FrightFest title Johnny Frank Garrett's Last Word and the upcoming Fashionista in the US.
"Films stand more of a chance in the US because there are more distribution companies, more websites and more fandom for the genre," he told the FrightFest audience in London.
"Straight-to- video used to be a barbed insult, but now if you're going straight-to-DVD you're doing pretty well."
The struggles faced by the industry were brought into sharp focus earlier this month when distributor Metrodome – a long-time supporter of UK independent horror – was placed in administration.
Hewitt, a former Universal UK exec, offered both words of caution and hope. "I'm aware there is a fantastic appetite from horror fans to still buy physical media and digital still hasn't fully found its way for the independent," he said.
"But there's also a really good opportunity for theatrical releases of independents, building community-based audiences through the likes of Kickstarter programme ourscreen.
"There is a real opportunity for the fans to work more collaboratively to get that appetite going and work with cinema chains, independent cinema chains and independent digital platforms."
Authenticity
British actor Andy Nyman, who is set to bring his hit stage production of Ghost Stories to cinemas, highlighted how the UK differentiates itself from the US market.
"One of things I find alienating about American horror films is it's like you're looking through a catalogue of models," said Nyman, known for roles in Severance, Kick-Ass 2 and TV satire Dead Set.
"I find it so hard to connect when you're looking at beautiful people endlessly. It's like a brick wall in front of me.
"What I love about English or European films is that you recognise the people. That's what we love about English films and horror. There's a weird, dark sense of humour."
Hewitt added: "UK horror has an authenticity that you can feel. There's much more reality and grittiness. American films tend to have a bit more gloss. They go for that star power.
"We should be proud of that approach. It's just about how we get more people to see these products. The script and concept needs to stand out."
Rumley described how speaking English in film could be a "double-edged sword".
"You have a language the whole world speaks but if you have a film that is idiosyncratically British, you are competing with the American market, which is considered to be "sexier"," he said.
"You're immediately competing with American films which may be made for the same budget but have had better distribution and press.
"In America, there are English films that have broken out but not many. The reason I started making films in America is that it automatically put me one step up the ladder to make it that bit easier."