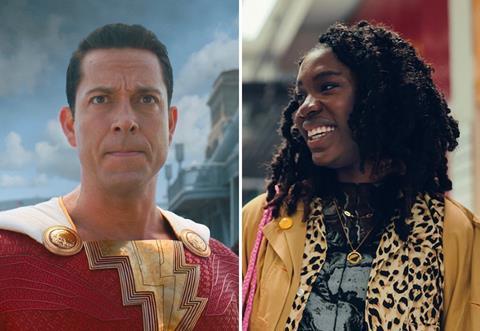 Shazam! Fury Of The Gods is leading the charge this week at the UK-Ireland box office, opening in 654 sites across the UK and Ireland for Warner Bros.
Star Zachary Levi returns as the hapless crime fighter, with director David F. Sandberg also back for the DC sequel. The 2019 original, Shazam!, topped the box office in its opening weekend in April 2019, taking £4m debut from 603 sites – an average of £6,634.
Helen Mirren and Lucy Liu round out the cast for the sequel, as two Greek gods who want control over planet Earth.
Pathe has Toronto premiere Allelujah at around 530 sites. Richard Eyre directs the drama about a geriatric unit's fight to be saved from closure, with Jennifer Saunders, Bally Gill, Russell Tovey and Judi Dench starring.
Venice premiere Pearl is dropping at 295 locations. The title, produced by A24 and released by Universal, is the second in the horror franchise that kicked off with X, and sees Mia Goth, David Corenswet, Matthew Sunderland, Tandi Wright and Emma Jenkins-Purro feature in the origin story of the murderous titular character, played by Goth.
Buzzy Sundance premiere Rye Lane is being rolled out by Disney at around 360 sites (including, of course, iconic cinema Peckhamplex, which features in the film). It's a solid figure for a directorial debut with two big screen newcomers in the leading roles. Screen Star of Tomorrow Raine Allen Miller directs the south London-set romantic comedy, with Vivian Oparah and Industry's David Jonsson playing the 'will-they-won't they' central couple. It will be released outside of the UK on Disney+ from March 31.
Trafalgar Releasing has Met Opera Live: Lohengrin in 152 cinemas in the UK, with the majority broadcasting the Wagner opera live on Saturday (March 18) from the New York stage.
This weekend's key re-release is The Age Of Innocence, showing at 20 sites for Park Circus, to mark the 30th anniversary of Martin Scorsese's adaptation of Edith Wharton's 1930 New York high society novel, starring Daniel Day-Lewis, Michelle Pfeiffer and Winona Ryder.
Indian titles have a strong showing at the box office this weekend. Dreamz Entertainment is releasing Indian 1990s-set action film Vaathi, from director Venky Atluri. Ashima Chibber's Hindu-language legal drama Mrs. Chatterjee Vs Norway is out for Zee Studios. It's based on the true story of an Indian couple who find their children taken away by the authorities when they move to Norway.
A Little English is playing for not-for-profit Resource Productions at 13 locations in its debut weekend, with more to follow in coming days, plumping up the total to 40. The British-Asian romantic comedy tells the story of a Punjabi newlywed who finds herself alone in Slough, after her British-Asian husband does a runner. It is the feature directorial debut of UK theatre stalwart Pravesh Kumar.
Winners – which clinched the audience award at last summer's Edinburgh International Film Festival, is out at 10 sites for Modern Films. The feature is directed by Hassan Nazer, who was born in Iran but is based in Aberdeen, and is set in a small Iranian town, in which a nine-year-old girl strikes gold when she finds an unclaimed Oscar statue.
Venice premiere Other People's Children, directed by French filmmaker Rebecca Zlotowski, is getting a day and date release in six cinemas for Signature.
Horror Play Dead, from director Patrick Lussier, is receiving a limited release for Icon Film Distribution, following its premiere on the Icon Film channel.
Key holdovers include Creed III (Warner Bros), Scream VI (Paramount) and 65 (Sony).