Olias Barco shooting Polina with international cast.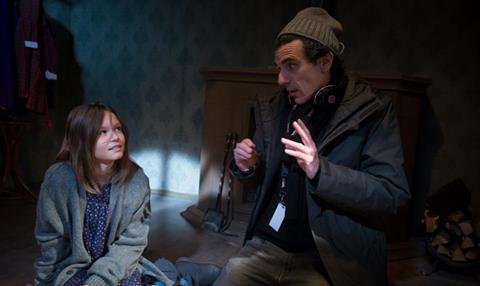 Ukraine's reputation as a location for international shoots has been given a welcome boost this week as production begins on the English-language family adventure-fantasy Polina by the French-Belgian director Olias Barco (Kill Me Please) in Kyiv.
The cast of the co-production between the Belgian-French company Wild Tribe Films and Ukraine's FILM.UA features an international cast including German-born Canadian actor Saul Rubinek, Audrey Marnay (The Monuments Men), Virgile Bramly (Inception), Wim Willaert (When The Sea Rises), Daniel Cohen (Le Chef) and Severija Janusauskaite (The Star), with the French DoP Thierry Arbogast, known for his collaboration with Luc Besson on such films as The Fifth Element and Lucy, behind the camera.
Ukrainian child actor Polina Pechenenko is cast in the title role as a 11-year-old girl setting off on a magical journey in search of the truth about her lost parents.
Shooting is located at the FILM.UA studios which, according to Barco, will be a character in itself in the film since much of the action takes place on a movie set reimagined in the child's fantasy.
The film - which will be released internationally in autumn 2016 - is being produced by Barco with Dennis Ivanov (producer-distributor of the award-winning The Tribe), Egor Olesov (Battle for Sevastopol) and Yuriy Prylypko.
Cottbus news
Sasha Wieser's EastWest Filmdistribution has picked up international sales for Bulgarian director Iglika Trifonova's new feature film The Prosecutor, The Defender, The Father and His Son which was pitched at a previous edition of the connecting cottbus East-West co-production market.
The thriller starring Romane Bohringer as a determined prosecutor at the International Criminal Court in The Hague will have its world premiere at the Black Nights Film Festival in Tallinn later this month.
EastWest is represented at this year's FilmFestival Cottbus with Eddy Terstaall's Meet Me In Venice, which is screening in the globalEAST sidebar as part of the festival's Dutch focus and will be released in German cinemas next year by Barnsteiner Film.