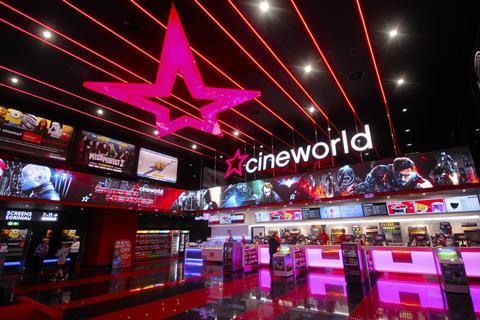 UK exhibitor Cineworld Group has reversed redundancy plans for staff who were set to lose their jobs following the widespread closure of cinemas due to the coronavirus pandemic.
The company – which operates the Cineworld and boutique Picturehouse chains – has now pledged to offer its hourly-paid employees a lifeline under the 'furloughed' option, which the UK government has introduced to cover 80% of staff salaries up to £2,500 per month.
In an email sent to the exhibitor's staff last night and seen by Screen, Cineworld CEO Mooky Greidinger said: "Dear All, Thank you for your continued patience while we have been waiting for further guidance from Government regarding the people measures. I know it is a very worrying time for many, and for this reason I would like to share with you the following.
"All of our hourly paid people across Cineworld and Picturehouse will be offered the Furloughed option. There is still much unknown detail as we wait further guidance from Government. And so we will be in touch with further updates, including how pay is calculated under the Government scheme. Your salary will be paid in the usual way in March.
"For now, I hope this brings peace of mind. Also, as noted before, if you were previously given a deadline by which time you needed to reply to us, you can now ignore this and as I say, I will be in touch again as soon as we know more. Have a restful evening, Mooky."
Last night, the Cineworld Action Group – formed by employees at the company and supported by entertainment union Bectu – tweeted: "This evening we received comms from Mooky stating that all hourly paid staff will be furloughed under the government scheme. We are awaiting confirmation for what this means for all staff and redundancies but hope this is the first step towards our victory."
Cineworld is the world's second largest exhibitor and operates 102 cinemas in the UK and Ireland, and more than 1,030 screens. Picturehouse Cinemas own and operate 25 neighbourhood cinemas and programme a further 40 venues across the UK.
The company faced criticism after emailing an undisclosed number of front-of-house staff to inform them they would be laid off, after closing all its cinemas on March 18 following industry-wide advice from UK prime minister Boris Johnson.
This reversal follows an announcement from UK chancellor Rishi Sunak last Friday (March 20) that government grants would cover 80% of staff salaries up to £2,500 per month and said "employers can top up salaries further if they choose to".
A spokesman for Cineworld told Screen: "We were very pleased when the government announced its financial scheme to support companies like ours. This scheme will allow us to do what we couldn't do before, which is to offer all our employees who are unable to work while our cinemas are closed, to be furloughed and therefore still paid during this time, as well as keeping their jobs for the future.
"The government package was a real game changer and we wait for clarification regarding the details. The well-being of our employees has always been a top priority for Cineworld and the company will continue to support them as much as possible."