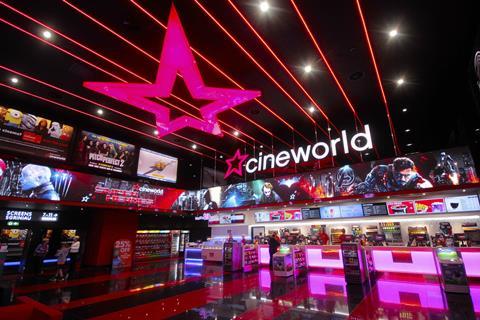 The UK's Cineworld Group has begun laying off staff following the closure of its cinemas amid the coronavirus outbreak.
In a statement, the exhibitor said its aim "has been to preserve jobs and continue to pay as many staff as possible while they are not working."
However, the company – which operates the Cineworld and boutique Picturehouse chains – would not reveal how many staff had been let go.
Cineworld is the world's second largest exhibitor and operates 102 cinemas in the UK and Ireland, and more than 1,030 screens. Picturehouse Cinemas own and operate 25 neighbourhood cinemas and programme a further 40 venues across the UK.
"Like other businesses in the retail and leisure industry we are facing an incredibly challenging time as a consequence of the global coronavirus (COVID-19) pandemic," the statement added.
"Following government guidance, we have taken the decision to close all our cinemas across the UK and Ireland to protect the health and wellbeing of our employees and customers. We value our employees and want to do everything we viably can to support them in these difficult and uncertain times."
One Picturehouse employee, who did not wish to be named, told Screen they learned of the news via email. The message stated they would receive "notice pay and any outstanding holiday pay" and a hope that employees would "return when they are able to re-open". In addition, staff who have been with the company for more than two years are set to receive a statutory redundancy payment.
On Tuesday, the group said it would close all its cinemas from March 18 following advice from UK prime minister Boris Johnson to avoid such venues, while stopping short of forcing closures, as coronavirus spreads. On Friday, Johnson announced all cinemas should close.
Cineworld's proposed $2.1bn acquisition of Canadian chain Cineplex has been approved by shareholders but has not yet completed.
Conversely, Curzon CEO Philip Knatchbull has moved to reassure staff during these times of uncertainty, which has seen the boutique chain temporarily close its 13 cinemas around the UK.
He said on Twitter: "Cinemas closed but with the support of every colleague at Curzon and our new owner [US-based Cohen Media Group] we have instigated a plan to hopefully avoid any redundancies for 3 months. Your support of Curzon Home Cinema during this difficult period time will really help."