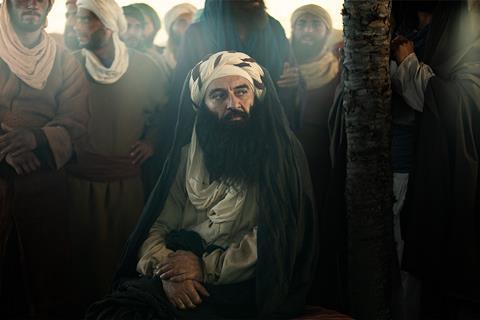 UK cinema chain Cineworld has cancelled all screenings of historical drama The Lady Of Heaven following protests at some of its sites.
The film opened in UK cinemas on Friday (June 3), and has since attracted public protests at Cineworld branches including Bolton and Birmingham.
The Lady Of Heaven tells the story of Lady Fatima, the daughter of Prophet Muhammad. It has been described as "divisive" by the Muslim Council of Britain and the Bolton Council of Mosques has called the film "blasphemous".
A spokesperson for Cineworld said: "Due to recent incidents related to screenings of The Lady Of Heaven, we have made the decision to cancel upcoming screenings of the film nationwide to ensure the safety of our staff and customers."
The $15m project was directed by 'Eli King' - a collaboration between writer Sheikh Al-Habib, London-based creative producers Abdul-Malik Shlibak and Hussein Ashmere, and the film's executive producers, producer Matthew Kuipers and creative consultant John Stephenson.
Shlibak and Ashmere's Enlightened Kingdom production company has international rights. Vertigo serviced the release until last Friday and are no longer involved with the film. Enlightened Kingdom will now handle the UK release.
The film interweaves two storylines: A young child's journey amid a battle-scarred modern day Iraq, and the historical story of Lady Fatima and her message of peace and non-violence. It uses CGI to depict Lady Fatima and Prophet Mohammed.
Speaking on the protests and cancelled screenings of The Lady of Heaven, Enlightened Kingdom producers urged the importance of "mature dialogue and not censorship".
The Lady Of Heaven is still being screened at some Vue sites in London and south-east England.