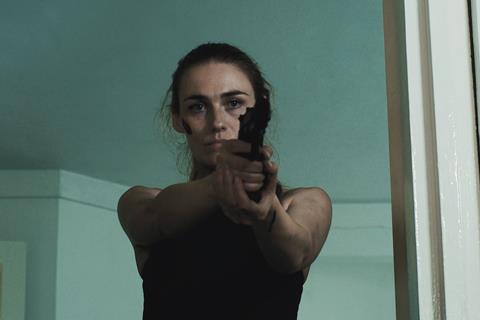 Four directors and one actor are on the five-person shortlist for the 2019 FrightFest Screen Genre Rising Star Award.
This year's event is the 20th edition, and runs from August 22 to 26 at cinemas in Leicester Square, London.
Nominees for the Genre Rising Star award include Rebecca Rogers, who takes the lead role in Justin Edgar's Stalked. Rogers plays Sam, a former Royal Marine Commando and single mother who wakes up disoriented in a deserted factory and must evade an invisible foe.
Writer-director-producer Fredi 'Kruga' Nwaka is nominated for his debut feature Are We Dead Yet?, about a robbery-gone-wrong that results in the perpetrators taking refuge in a haunted castle.
Another debut director, Jack McHenry, is nominated for Here Comes Hell, a mystery thriller described by FrighFest as 'Downton Abbey meets The Evil Dead'.
Abigail Blackmore is nominated for writing and directing black comedy horror Tales In The Lodge, about a band of middle-aged friends who gather to honour a recently-drowned member of their group.
Finally, Staten Cousins-Roe is included for his debut feature A Serial Killer's Guide To Life, about self-help addict Lou Farnt's road trip of alternative therapies with life coach – and serial killer – Val.
This is the fourth year Screen has teamed with FrightFest for the Genre Rising Star prize. Previous winners include Ella Hunt last year for leading zombie musical Anna And The Apocalypse, plus Alice Lowe (Prevenge) and Danny Morgan (Double Date).
The winner will be announced at a ceremony at the festival on Monday August 26.