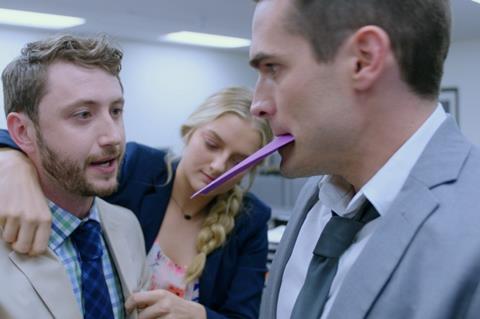 US directors Jim Cummings and PJ McCabe's feature The Beta Test will open the UK's genre film festival Grimmfest which is running as a physical event in Manchester from October 7-10.
Cummings and McCabe will also star in the film about a Hollywood agent who gets sucked into a world of sexual infidelity and mysterious streams of digital data. Los Angeles based-Vanishing Angle produced the horror thriller. The feature initially premiered in the Berlin International Film Festival's Encounters.
The festival is screening three world premieres: Argentinian Sebastian Perillo's The Nights Belong To Monsters, American director D.M. Cunningham's The Spore and Shot In The Dark from American filmmaker Keene McRae.
This year the festival will present 26 films, more than ever before, and has expanded onto two screens at Manchester venue Odeon Great Northern.
The competition jury includes Stewart Bridle, manager of the UK's Horror Channel, and US actress, writer and director Brea Grant. All films will be in the running for best feature, best short, best director, best actress, best actor and best SFX.
The Grimmfest lifetime achievement award will be presented to US actress Dee Wallace, best known for her role in E.T. the Extra-Terrestrial.
Most of the films will available to view online across the festival's online event from October 15-17 via Eventive.
Grimmfest 2021
The Beta Test (US)
Dirs: Jim Cummings and PJ McCabe
The Deep House (FR/BEL)
Dirs: Alexandre Bustillo and Julien Maury
Night At The Eagle Inn (US)
Dir: Erik Bloomquist
Night Drive (US)
Dirs: Brad Baruh and Megan Leon
King Knight (US)
Dir: Richard Bates Jr.
Alone With You (US)
Dirs: Emily Bennett and Justin Brooks
Faceless (US)
Dir: Marcel Sarmiento
Motherly (CAN)
Dir: Craig David Wallace
Seagull (UK)
Dir: Peter Blach
Val (US)
Dir: Aaron Fradkin
Shot In The Dark (US)
Dir: Keene McRae
The Pizzagate Massacre (US)
Dir: John Valley
The Righteous (CAN)
Dir: Mark O'Brien
Two Witches (US)
Dir: Pierre Tsigaridis
Midnight (S KOR)
Dir: Kwon Oh-seung
The Free Fall (US)
Dir: Adam Stilwell
We're All Going To The World's Fair (US)
Dir: Jane Schoenbrun
The Guest Room (IT)
Dir: Stefano Ludovico
Hotel Poseidon (BEL)
Dir: Stefan Lernous
Slapface (CAN)
Dir: Jeremiah Kipp
On The Third Day (ARG)
Dir: Daniel de la Vega
Tarumama (COL)
Dir: Andres Beltran
The Nights Belong To Monsters (ARG)
Dir: Sebastian Perillo
Forgiveness (MEX)
Dir: Alex Kahuam
The Spore (US)
Dir: D.M. Cunningham
The Sadness (TAI)
Dir: Rob Jabbaz